NCS Impounds N14.6mn Poultry Products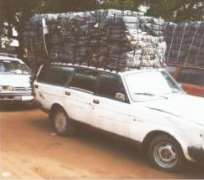 The Nigeria Customs Service has recorded seizures of Frozen poultry
products worth N14,611,500.00 (Fourteen Million, Six Hundred and
Eleven Thousand, Five Hundred Naira).
According to NCS management in a statement, seizures were recorded in
the record was made in the sixth and Seventh week of its zero
tolerance campaign on importation of frozen poultry products tagged
"Operation Hawk Descend".
The seizures which consists of 3,247 cartons of the banned products
were impounded at different locations along the south western borders
of Nigeria.
These includes Badagry, Agbara, Seme, Gbaji, Owode Creek in Lagos and
the Idiroko axis.
The breakdown of the seizures showed that in Ogun, 1,120 cartons of
frozen poultry products valued at about N5,040,000 million. Others
are Seme 146 cartons with a value of N657,000. While at FOU A,
1,981cartons valued at N8,914,500 million were seized.
"While commending the steadfastness of its operatives, the management
assures the general public of its determination to continue the
onslaught against the smugglers of the banned products," the statement
said.
Traders and consumers of the banned frozen poultry products are
advised to patronize local farmers as this will create job
opportunities for our youths, boost our economy and save Nigerians
from diseases associated with consumption of dangerous chemicals used
in preserving the banned poultry products.