DSS charges ex-NSA, Dasuki to court over possession of illegal firearms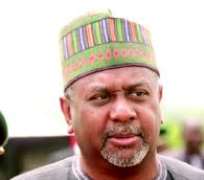 Nigeria's Department of State Security Services, DSS on Monday said it had charged former National Security Adviser, Col. Sambo Dasuki (retd.) to court over offenses relating to possession of fire arms without license.
Tony Opuiyo, spokesperson for the DSS said in statement issued on Monday, stated that after searching Dasuki's houses on July 16, 2015, operatives of the secret police discovered large cache of arms and ammunition and has subsequently charged him to court.
According to him, the search was necessitated by credible intelligence which linked him to acts capable of undermining national security. "The search operation led to the recovery of large cache of arms and ammunition among other things and for which further investigation was conducted.
"Consequently, on Monday 24th August, 2015, he was charged to court based on evidence so far obtained, but which relates to possession of fire arms without license," Opuiyo stated.
Opuiyo said in the statement that the offince is punishable under section 27(i) (a)(i) of the Firearms Act Cap F28 LFN 2004, adding that: "This is in line with democratic practice and our avowed commitment to the rule of law."
It will be recalled that operatives of DSS had last month stormed the Abuja residence of Dasuki located at Asokoro District of Abuja during which they searched his house and placed him on house arrest for over 24 hours.
Another set of operatives of DSS had also laid siege on another property belonging to Dasuki's father in Sokoto during which they also conducted searches in the house.
Dasuki was sacked as NSA on Monday, July 13, by President Muhammadu Buhari after serving for three years as Nigeria's National Security Adviser. The former NSA who was appointed on June 22, 2012 by former President Goodluck Jonathan has also been in the eye of the storm over allegations of corrupt dealings in arms procurement when he was the NSA.