LEAVE BUHARI ALONE, SHEKARAU TOLD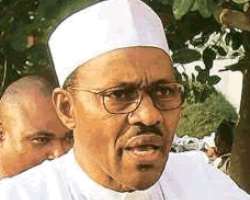 Buhari
Former head of state, Gen. Mohammadu Buhari has asked the Kano State Governor, Mallam Ibrahim Shekarau, to leave him alone and stop using his name to get cheap popularity. He told the governor to face his business of governing the state.
The two-time presidential candidate of All Nigeria Peoples Party (ANPP) said he would not glorify the Kano governor by stooping so low as to engage in diatribe with him. The former head of state has been a subject of series of attack by Mallam Shekarau who described the exit of the former General from the ANPP as a good riddance to bad rubbish. He described the General as a man who did not add value to the ANPP but left without any following.
However, Gen. Buhari's new party, Congress for Progressive Change (CPC) issued a statement at the weekend where it described the incessant attack on him by the Kano governor as a misplaced objective and a case of biting a finger that fed him.
A statement signed by the National Publicity Secretary of the party, Dennis Aghanya, argued that Mallam Shekarau must have been confused by the sudden exit of the former head of state from the ANPP because 'his game plan had been thwarted by the exit of Gen. Buhari from the party.' The party stated that Gen. Buhari did not deserve the vitriolic attacks being launched by the Kano governor.
'He was a teacher until he was brought to prominence in 2003 as the governor of Kano State through the sole effort of General Muhammadu Buhari and his political organization, the TBO. 'The ticket was secured for him under the platform of the ANPP and all his campaign activities financed by the TBO. The rest is now history. This is an obvious fact that cannot be erased,' the statement said.
The party alleged that Governor Shekarau's anger against Gen. Buhari is because the General's exit from the ANPP, has halted the pact he has with the ruling PDP, to stop Buhari from emerging as ANPP'S flagbearer in next year's presidential election. The party expressed its dismay in the way Shekarau, whom it described as a political 'feather weight', has been mounting diatribe against Gen. Buhari since he called it quits with the ANPP.
The CPC described Shekarau as a man who has allowed his modest achievements, made possible in the first instance, by Buhari, to get into his head. According to CPC: 'This position, however, portrays Shekarau as a man that is very naïve, short-sighted and lacking in knowledge. He is quick to forget where he is coming from. The first value Gen. Buhari added to the ANPP was to have transformed a man like him from nothing to something. For Shekarau to now challenge his God to a fight, shows his level of hollowness and naivety.
'Where was Shekarau when most state secretariats of the ANPP were being converted to CPC offices as a result of Buhari's exit from the ANPP? The day of reckoning is at hand for Mallam Shekarau to account for his leadership to the people of Kano State.'