Sinners in Christ Embassy •Steal millions of naira in church's bank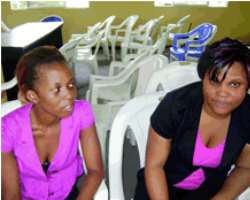 The bid by Christ Embassy, one of the popular Pentecostal churches in the country, to help its members inculcate the culture of saving and thrift is now becoming a thing of sorrow, as sinful members of the church have done something that has turned the house of God into a den of thieves.
In a bid to be among those who testify in church over speedy progress, four members of the church engaged in fraudulent activities in the microfinance bank, popularly known as 'Parralex,' established in the church's premises in Lagos. These bad eggs have systematically diverted over N60 million into two dedicated personal accounts and shared it among themselves.
The bubble, however, recently burst for them, as operatives of the Special Fraud Unit, Ikoyi, Lagos swooped on them. They are now cooling their heels in detention, awaiting trial. Among those arrested are Chinelo Ezeagwuna, Essien Mabel Ufonabasi, Keneyinboh Miriam Eneyi, Orie Nwakego Felicia and Bassey Bassey Charles.
On the facts of the case, Commissioner of Police, SFU, Moses Saba, told Saturday Sun that the suspects conspired and opened several accounts with the bank, using fake names. He said that the leader of the group, Chinelo, sold the idea to her colleagues, who joined.
According to the police chief, the fraudulent accounts bore the names, Akinsola Yinka and Akinsola Favour, which were used to divert about N60million. What the fraudsters did was to always debit the bank's general ledger and transfer same sum of money to the various fraudulent accounts. This evil action started in 2008 and continued until last February when the fraud was uncovered, the CP said.
On how the fraud was detected, CP Moses stated that an external auditor was called in to audit the bank's account and discovered that money was missing. He said that the suspects were confronted and they confessed to the crime.
When Saturday Sun spoke with the suspects, they showed remorse and revealed why they went into the evil act.
Chinelo on how it started
Chinelo, 21, told Saturday Sun that she wanted to be among those who cued into the prophecy of Pastor Chris Oyakhilome. According to her, the pastor always talked about speedy prosperity propelled by making the use of available opportunities.
She said: "It's all about prosperity, increase in speed. That is what Pastor Chris taught us in church. That is my own interpretation of what I did. My mind convinced me to toe that path, since I have been seeing all kinds of fraudulent people in the church, and know how they get rich. I thought that if actually they got rich through all these means, I could also get rich doing what I did."
Chinelo explained that she got the inspiration through the fat accounts of their former Managing Director, Pastor Foluke.
According to her: "Our madam sent Miriam to check her balance, using the ATM machine. She came back and told me that she saw N4million each in two of her accounts. I wondered why my madam, whose salary is N62, 000 a month, should have such an amount in her account. I remembered that she had been telling me to transfer money from accounts. She also collected money from me when I was handling cash in the bulk unit, saying she was doing investment. I now realized what she had been doing with all the money she asked me to withdraw and give her. I never knew what it was all about, but when I checked I got answer. I told Miriam of my plans and she agreed.
"We opened accounts and transferred money into them and thereafter shared it among ourselves. When Mabel discovered what we were doing, I also advised her to join us or die as a pauper, since we were being paid N25,000 a month. She agreed and we continued withdrawing till the fraud was discovered."
Chinelo, a Guidance and Counselling graduate, revealed that such fraud has been going on undetected because the bank is not well structured. Also, she said that none of the staff had banking experience.
The lady said: "The bank is not well-structured. They do not have any professional running the bank. We run the bank ourselves. Our madam, who is about 32 years, does not have any working experience.
We all started the bank together in November 2008. We were employed through a memo sent to our pastors that they needed hands at the bank. We did not go for any banking training. The madam of the bank does not know anything about banking. We read books to learn about banking.
"I got the job as a volunteer staff of Christ Embassy and my primary assignment was to work in the bank. By that time, we were not even given a licence by CBN to start running the bank. I have confessed and asked God to forgive me and I believe He has. My parents are aware, as they asked me to come and report myself and confess everything that I have done."
Miriam's story
Miriam, 24, who claimed to have repented from her sins, pleaded with Pastor Chris to forgive them. "I know that I am an embarrassment to the GO and he will be ashamed of me right now. I am begging God now for forgiveness and I know that I am wrong. Pastor Chris, wherever you are, if you are seeing me, I am sorry, but if we had everything in place in the bank, people wouldn't have gone this far."
Miriam, who is a Geography graduate, told Saturday Sun that when she saw the account of her boss she wondered where she got all that money.
She said: "I have been working with the microfinance bank since 2008 and cannot boast of N100, 000. When I checked the balance of my boss, my mind told me to do what to I did. I sold the idea to Chinelo. We opened two accounts and transferred money to them.
"It was the devil and greed that pushed me into this act. My family is not poor at all. I still blame myself; that is why I can come out boldly to confess what I did. I have admitted my wrong and I am suffering from it."
Mabel's bombshell
Mabel blamed Pastor Foluke for her involvement in the act. According to her, the former bank manager never treated her well.
She said: "I will blame Pastor Foluke, who never showed me love ever since I was transferred to the bank from the healing school. If she had been nice to me I would have reported to her when I noticed the loophole. Any little thing she would burst out and hit me. Part of the reason I did not tell her was that she was capable of roping me into that problem. I wasn't part of the deal initially, but when I noticed it and confronted them, I had no choice but to join them, since they got the inspiration from Pastor Foluke
"If they are just discovering this, that means their financial reports had been faulty all along. Sometime CBN and auditors came. I don't know what they audited if since they did not detect such little irregularities. The most pathetic situation is that I did not use the money for any particular investment. I have been with Christ Embassy for the past nine years. I am sorry because I have a conscience. I want to use this opportunity to tell Pastor Chris that we are sorry. We are his children and he remains our father. He should please find a place in his heart to forgive us."
Felicia denies involvement
Felicia, the cashier in the bank, denied involvement in the act. She insisted that her boss, Foluke, included her name because she is an Igbo woman.
According to her, "I am not a staff of the bank. We are just there. For three years, there was no training, including for the MD. We are even more educated than her. We were the ones that taught her the job. I am not involved in the fraud. They just accused me because they felt that I am from another tribe. They just want to indict me. It is her sister, Moji, who opened the account and has been posting money for her. Moji admitted that she is the one. How can you open account without the necessary things, like identity card, signature?
"If the Madam Foluke claims that she knows nothing about this, then the report she is sending to CBN is not correct. How can she claim to be making profit of N100million while some of these things are happening in the bank? Any time CBN came, she would carry the cashbook and give Moji to hide. The auditor came and has been asking for the cashbook. She would be changing figures. They always bought new cashbooks for this. I am the one they send to submit the monthly report to CBN."
Bassey gave the clincher
Bassey, a deacon in the church, got himself into trouble when he decided to heed the advice of a pastor in the church to withdraw money through a fraudulent account. The pastor told him that it was not a big deal, as the bank's MD was involved.
Bassey said: "In one of the events at Oregun, I met one of my customers, who happened to be a pastor in the church. He saw me greeting Foluke and asked whether I knew her. I told him yes. Pastor Jude told me she was the MD of the bank and did all kinds of dubious business deal with her sister. He said that Foluke used to send the sister to collect money for her. There was a time she withdrew N20million and paid into her account.
"The only regret I have is that I have embarrassed Pastor Chris and the church of Christ. I feel so embarrassed, judging from my position in the church. I pray that the pastor will find a place in his heart to forgive me. Pastor Chris has a message that blesses people. It is just that people they have put in place to manage the church are not the right people. They are fraudsters."
When contacted, one of the bank's managers, who identified himself as Emmanuel, told Saturday Sun on phone that he was aware that such an incident happened but did not have the details.
"You need to talk to those in authority. I have heard of the incident, but I do not know the details. Most especially, I am not in the position to talk to the press," he said.
|
Article source