'CBN's 31% harmonised CRR results in N142b debit'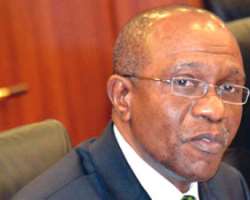 The Central Bank of Nigeria's (CBN's) preferred tool for monetary policy adjustment over the past three years, the Cash Reserve Ratio (CRR) has become the biggest drag on banks' profits, with N142 billion net weekly debit across sector, Renaissance Capital (RenCap) report released yesterday said.
The CRR is a portion of banks' deposits kept with the CBN as reserves and was harmonised to 31 per cent for both public and private sector deposits.
Its Head, Equities Market, Adesoji Solanke said the combined CRR for banks under its coverage moved from 11 per cent in 2012 to 27 per cent last year before the current harmonised rate.
'We note that subsequent to the hike in the private sector CRR to 20 per cent late November 2014, the CBN conducted a special check across the sector to ensure public sector deposits were properly classified. The CRR hike, coupled with this audit (which found some banks erring), led to significant leaps in effective CRR by 2014 across board,' he said.
He said the tight monetary policy environment and punitive CRR computation implemented by the CBN in first quarter, led to a margin squeeze in most banks' first quarter results.
Solanke said foreign exchange income is likely to be weaker this year, as the CBN's operational controls continue to stifle interbank trading. He said most banks have reduced their commission on turnover (CoT) further to 0.1 per cent, which is also negative for revenue.
'With a new government in place, there has been much talk of broad, deep-reaching reforms, though with few specifics at this stage. We think Nigerian banks are unlikely to remain unscathed, as weaker fiscal revenue could put the banks' tax exemptions on government and corporate securities at risk; oil sector reforms could lead to asset quality surprises,' he said.
Solanke said after evaluating the implications of potential changes to the banks' effective tax rate, it was  concluded that higher rates could significantly weaken the sector's investment case, as only Guaranty Trust Bank (GTBank) and probably Stanbic IBTC in RenCap's coverage universe would be able to deliver returns to match their cost of equity.
'We also establish each bank's breakeven cost of risk and deduce a 'pain buffer' that calculates how much room we think the bank has to take on additional impairments before moving into a loss. Based on our 2015 estimates, GTBank, Stanbic, Zenith Bank and UBA have the highest pain buffers in the sector,' he said. Agency report