Boko Haram: Anglican Bishop Call On Nigerians To Pray For Buhari To Tackle Insurgency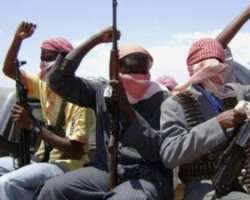 The Anglican Bishop of Yola communion Diocese, Rev. Markus Ibrahim Anfani, call on Nigerians to as a matter of urgency and seriousness to develop a habit of fervent prayers for the new administration that brought in president Muhammadu Buhari into power.
Ibrahim made the call while respondent to question by our correspondent at his residence in Yola,according to him insurgents has messed down the previous administration and rendered thousands of people in north-eastern Nigerian into fugitive beggers
The attacks by Boko Haram have affected believers who are the worst injured without Houses and place of worship
Anfani said Buhari should remember all Nigerians voted for him as he turned to have the majority standing for,at this time those not voted for him is very inconseconcial as the will of God had already prevailed against his enemies
He commended the president elect for his resilient and ideological consistency, adding that such had earned him victory at the last general election.
He also commended President Goodluck Jonathan for providing a fair leveling ground for political participation as well as conceding defeat even before the conclusion of the collation of results.
He said that such had averted the anticipated electoral violence which would have caused a set back to the nation's democracy.
The cleric called on the president-elect to urgently address the challenges of the victims of the Boko Haram insurgency in the North East upon his assumption of office.
He also called on the president-elect to reconstruct churches razed down by the terrorist to enable Christians worship in decent places.
Ibrahim said the Anglican mission had already embarked on an aggressive evangelism to the IDPs and other victims of the violence for spiritual rehabilitation.
He also said that the mission had concluded plans to visit all the affected communities for evangelical work as well as to provide some assistance to them.
According to him, we have already supported the IDPs in various ways.
``We have provided some accommodation for some of the IDPs, we have visited their camps and supported them with relieve materials and also prayed for them.''
Bishop Anfani encouraged Christians to always pray for the new Government in all the 36 states for God to give them a proper direction in somany sensitive decisions the may likely find themselves.
He encouraged all to be steadfast and prayerful, adding that such challenging times would come but those who would endure shall be rewarded.