Kerry commemorates attack victims in Kenya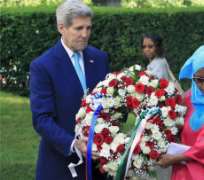 His trip to the East African country coincides with improving US-Kenyan ties and sets the stage for President Barack Obama's visit this summer.
Kerry laid a wreath on Monday for the victims of the deadly 1998 bombing of the US embassy in Kenya and offered condolences to families and friends of the 148 people, mainly students, massacred at a Kenyan university last month.
The embassy attacks in Nairobi and the Tanzanian capital of Dar-es-Salaam killed 224 people, the work of a rising al-Qaeda just three years before the even deadlier September 11 attacks against the US homeland.
Kerry told an assembled group at the park that if the attackers intended to destroy relations between US citizens, Kenyans, and Tanzanians, they failed.
'They didn't destroy anything that was worthwhile,' Kerry said. 'The only place for al-Qaeda, al-Shabab, Boko Haram and Daesh is in the past.'
Daesh is another term for ISIL, or the Islamic State in Iraq and the Levant. US officials have been using the term more frequently in order to undercut ISIL's claims that only it represents legitimate Islamic beliefs.
'Terrorists will fail'
Last month's tragedy at Garissa University College was different, coming from an al-Shabab network that is on the run in Somalia but expanding its activities elsewhere.
'Terrorists will always fail,' Kerry said at the site of the former embassy.
'Yes, they can reduce a building to rubble. And yes, they can even deprive innocent people of their lives.'
'But they do not give anyone anything of what really makes life worthwhile.'
Americans and Kenyans have the power to fight back, Kerry emphasised, militarily and 'through our unity and the character of our ideals.'
Earlier, he addressed the embassy's current staff, which includes several employees that survived the attack 17 years ago. He praised their efforts.
Kerry's presence in Kenya, however, comes shortly after a US justice department decision not to award victims of the embassy bombings money seized from Sudanese accounts at a French bank.
The US says Sudan financed and supported the attacks in Kenya and Tanzania.
George Mimba, who headed embassy employees in Kenya at the time, said in a statement that he and others were 'deeply disappointed'. Aljazeera