Ship sank near the coast of Lebanon - As Prophesied by T.B. Joshua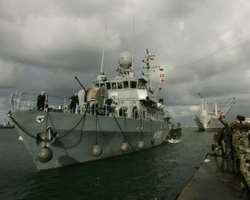 A German maritime task force ship sent by the United Nations Interim Forces In Lebanon (UNIFIL) to rescue victims of a ship accident
Prophet TB Joshua of The Synagogue, Church of All Nations, on Sunday, the 27th of September 2009, during live service asked his members to pray because he is seeing a ship sink with people on board.
These were Prophet T B Joshua's words: "I'm seeing a ship. These are people inside this ship and something happened and the whole load of the ship, the people there- they sank. Let us pray and come together on Wednesday and Thursday. Fast and use Psalms 71 & 91. What Happened? It's like something under stopped it. They lost signal".
On Thursday, the 17th of December 2009, news broke out about a ship which sank off Lebanon with 83 people on board.
A Panamanian-flagged ship which was reportedly transporting cattle had capsized some 11 nautical miles off the port of Tripoli with more than 80 people on board.
A major international rescue team has so far pulled 25 from the rough Mediterranean waters.
A rescued crew member of the Danny Two cargo ship said their British captain died when the ship capsized in a storm off the northern Lebanon coast.
Lebanese navy rescue boats, including a medical team, rushed to the reported scene of the disaster along with three vessels from UNIFIL, the UN's force stationed off Lebanon.
Naval forces from Lebanon and from the United Nations force in Lebanon searched for survivors.
The ship was carrying livestock bound for Tartous, Syria, but it was not immediately clear whether the ship was on its way there or whether it already had reached its destination and was returning home, he said.
Rescue workers helped a survivor of a sunken Panama ship after he was rescued off the port of Tripoli in northern Lebanon on December 17, 2009. Dozens of people were missing on Thursday after a ship carrying livestock sank in the Mediterranean off Lebanon in stormy weather, according to Lebanese naval
UNIFIL spokesman, Andrea Tenenti says preliminary information indicates there were 83 people on board when the ship sank.
However, rescue efforts were hampered by heavy rain and thunderstorms that lashed Lebanon on Thursday and Friday. Many roads in the country were blocked due to flooding triggered by the heavy rainfall.
T.B. Joshua is a pastor with a remarkable record of accurate prophetic pronouncements, including the recent attack on Italian Prime Minister, Silvio Berlusconi and many more. I believe it's high time the people of the world joined Prophet TB Joshua in prayer whenever he gives prophecies.
Development / Accra / Ghana / Africa / Modernghana.com