Court strikes out Buhari's eligibility suits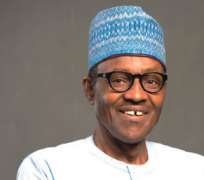 A Federal High Court sitting in Abuja has struck out two suits over the eligibility of President-elect, General Muhammadu Buhari, to stand for the March 28, 2015 election, which he won.
Justice Adeniyi Ademola struck out the suits after the plaintiffs indicated their intention to discontinue with the suit.
Counsel to one of the plaintiffs, Chief Mike Ozekhome (SAN), said his client decided to withdraw his suit to afford the incoming government time to focus on the 'enormous task' of governance.
The second case, filed by Max Ozoaka, was also struck out for similar reasons.
Ozoaka's lawyer, Dr. Chike Amobi, told Justice Adeniyi that his client was no longer interested in pursuing the matter.
With this development, only one suit is left on the eligibility of Buhari to stand for the election.
It is the suit filed by Ayakeme Whiskey.