Ekiti workers protest plots to impeach Fayose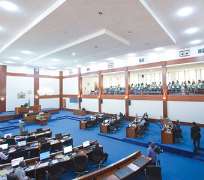 Workers in Ekiti State have decided to stay off their duty posts today to protest the incessant crises over plots by the All Progressives Congress, APC, lawmakers in the House of Assembly to impeach Governor Ayodele Fayose.
The workers, under the aegis of Nigeria Labour Congress, NLC, Trade Union Congress, TUC, and Joint Negotiating Council, JNC, said as stakeholders, their action was for security of their lives and 'to make the political class realise that the workers are relevant.'
Ekiti NLC President, Ayodeji Aluko, at a rally in Ado-Ekiti yesterday pledged support of the workers for Fayose and urged the governor 'to continue to do the things that have placed him on a pedestal of recognition.'
The workers also cautioned 'those who have been induced to compromise the stability of Ekiti State and those who continue to malign our image as a people to desist from so doing.'
It would be recalled that the APC lawmakers, led by Dr Adewale Omirin, last week allegedly wrote to the state's Chief Judge, Ayodeji Daramola, to set up a panel to investigate the impeachment allegations against the governor.
Stressing that 'workers as important stakeholders want peace in the state and are canvassing for peace,' Aluko blamed crises in the state on 'a cross-section of the political class, who go outside the precepts of democratic practices in their aspiration to sustain themselves in political power.'