Ribadu support group shift Loyalty to Dr Midibbo support group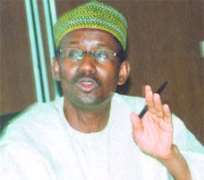 Some few days to gubernatorial and state house of assembly elections, a group known to be Ribadu support group has shifted their loyalty and support to Dr Modibbo Ahmed, which want the general to public to address as Dr Modibbo support group
The leader of the group and who address the members of the press, Yahaya Mahammed says Dr Modibbo Ahmed is the most respected,the most dignified who has value and respect for the people of Adamawa state.
"Haven observes the political terrain and courtesy receive from our former party, we believe only a man with the qualities of the like Dr Modibbo can restore dignity to politician and politicking in our state". Yahaya said
The group gave a press statement at Modibbo Zaberu town Hall in Yola, who emphasis their solely aims and objectives to use it for Modibbo of canvassing votes of their candidate with their 300 organisations under the group.
Calling of all the people to votes for Modibbo as he is the preferred candidate