Senator Abatemi-Usman Congratulates Buhari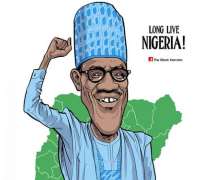 The Vice Chairman, Senate Committee on Niger Delta Affairs, Senator Nurudeen Abatemi-Usman has congratulated the winner of the 2015 presidential election, General Muhammadu Buhari of All Progressives Congress (APC).
Buhari polled a total of 15,424,921 votes to defeat the incumbent President, Dr. Goodluck Jonathan of Peoples Democratic Party (PDP), who scored a total of 12,853,162 votes to place second in the race involving 14 contestants.
In a statement issued by his special assistant on media and publicity, Michael Jegede, the Senator noted that the massive support given to the former military Head of State, showed how much Nigerians were determined for a change which the General was believed to represent.
Abatemi-Usman observed that things have gone too bad in the country that only a man with high level of integrity and credibility in the likes of Buhari can change the situation for the betterment of the Nigerian people. This, according to him, informed his total support for the candidature of the retired soldier in the presidential election.
"I congratulate the people's General, Muhammadu Buhari, candidate of the All Progressives Congress (APC) in the just concluded presidential election for his emergence as the President-elect. No doubt, his victory was borne out of the fact that Nigerians were eager for a change and they needed a man like him who can truly bring them the desired change that will meet their yearnings and aspirations.
I am confident that with Buhari in the helms of affairs in this country, things will certainly change for the better. I urge all Nigerians to give the incoming government of Buhari the necessary support, so that together we can move our dear country Nigeria to the next level, where life will be better for all citizens," Abatemi-Usman said.
The Senator applauded members of the Buhari Presidential Campaign Organisation led by Governor Rotimi Amaechi of Rivers State and all other leaders of the APC for their strong determination and unrelenting spirit in the struggle to bring about change in the governance of the country. According to Abatemi-Usman, the efforts of the leaders of the APC at the top, contributed in no small measure to the party's victory in the presidential poll.
FROM MICHAEL JEGEDE
MEDIA AIDE TO SENATOR NURUDEEN ABATEMI-USMAN
VICE CHAIRMAN SENATE COMMITTEE ON NIGER DELTA AFFAIRS