Tinubu calls for extension of voting time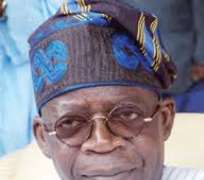 The National Leader of the All Progressives Congress, Bola Tinubu, has called on the Independent National Electoral Commission to extend the voting time in Lagos in order not to disenfranchise people.
Mr. Tinubu stated this while addressing journalists minutes after he cast his vote at Alausa, Ikeja.
"I'm calling on INEC to address the problems of late or delayed starting. They might have to extend the time of voting before the close, not to disenfranchise too many people," he said.
"We have various polling booths still waiting, as at the time I came in now, for card readers. Agboyi Ketu for example, they are having problem there. Highly populated area.
"The Mile 12 market is just starting, Anthony Village the same thing, various problems.
"What I'll call for is INEC to take a decision to extend. Equally, they take responsibility to issue agent cards, party agent cards, after names were submitted to them. Not all agents were given these cards. Then you start to suspect what is going on exactly.
"But we'll be patient. We have various delay problems. Alimosho, part of Ikeja here was substantially delayed. We have to do things right, let's show the world we can do the right thing. We can believe in institutions that were set up with public funds to serve the public. INEC's integrity depends on all of these. They can no longer give excuses.
"It's better for them to extend the voting time in Lagos today. Majority of the areas are substantially dissatisfied and that is my worry. It will be shame if remedial action is not taken to ameliorate the sufferings of the people."
Mr. Tinubu also disowned rumours that he had sent a text message to people urging them to cast their votes for Goodluck Jonathan.
"I have a record on my phone. I've made my number public so that people can even call to verify," he said.
"If you are doing this to either fraudulently convince or confuse people, what type of leadership is it? The nation must be ruled by people of great character, vision, responsibility."