Nigeria decides tomorrow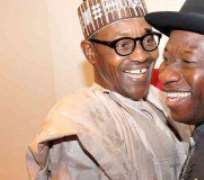 I'm a young Nigerian lady,and I wouldn't want to say much because I value my life.
I have realised that only with God's help will Nigeria tune back to NORMAL.
As the election comes up tomorrow,please fellow Nigerians,vote in who you think and know can lay down his life for you and not someone who will send bomb to your household,vote in the man who can stand for the truth.
The ball is in our court,just remember that whatever you do tomorrow,will determine the future of this country.
We all know most of them make empty promises,but we just have to vote for one person. Tomorrow both the young and old will stay under the sun or rain to cast their votes.
So I ask this question; do they really care about anyone of us? We're risking our lives,for them,not thinking whether or not they may be straight bullets we may have to run from tomorrow.
See,as for me I really cannot waste my time to vote,of course I'm over 18 and I know it's my right to vote but I really don't just think my vote counts,I'm not still convinced about anything in this country. It's's not my fault, it's just how I see things in this country,but if really I must vote........I won't still vote.
By Presh Olives
Disclaimer:

"The views/contents expressed in this article are the sole responsibility of

Presh Olives

and do not necessarily reflect those of The Nigerian Voice. The Nigerian Voice will not be responsible or liable for any inaccurate or incorrect statements contained in this article."