INFOGRAPHIC: #AfricaAgainstEbola campaign in West Africa as of 27 January 2015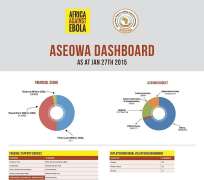 Here is an infographic illustrating some aspects of the efforts, carried out by the African Union Commission (AU), aimed at fighting the Ebola crisis in West Africa.
As of the 27th January 2015, nearly 1000 ASEOWA healthcare workers and 86 volunteers have been deployed to West Africa to help fight the Ebola endemic. Almost 700 of those healthcare workers come from Africa.
Ebola is an unfortunate crisis that has devastated many families in Guinea, Sierra Leone and Liberia and these regions come with limited functioning medical infrastructure. Because of this, the AU – through the #AfricaAgainstEbola campaign and together with a number of valued partners – are working endlessly to fortify health practices and promote the welfare of the people in the countries that are mostly affected by virus in West Africa.
Editor's note:
Please see attached infographic illustration of Ebola situation as presented by The African Union