Nigeria dismisses James Ibori money laundering charges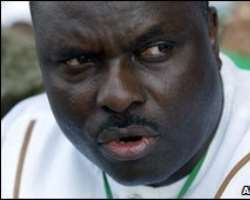 A UK court has frozen assets worth $35m it says belong to James Ibori

The former governor of Nigeria's oil-rich Delta State has been cleared of 170 charges of corruption - involving the laundering of millions of dollars.
The federal court in Asaba said there was no clear evidence against James Ibori, governor from 1999 to 2007.
The Economic and Financial Crimes Commission (EFCC), which brought the prosecution, described the judgement as hazy and pledged to appeal against it.
Nigeria is frequently cited as one of the world's most corrupt countries.
Correspondents say the government has had to defend itself recently amid growing anger that it is slowing down its anti-corruption drive.
'No stone unturned'
The BBC's Caroline Duffield, in Lagos, says Mr Ibori is one of the most wealthy and well-connected politicians in Nigeria.
She says he is a close personal friend of President Umaru Yar'Adua, and is notorious among Nigerians for becoming extremely wealthy during his time in power.
The EFCC say they have "an enormity" of evidence against him and have promised to "leave no stone unturned" in their efforts to bring a prosecution.
"This kind of judgement, if not challenged, is capable of deepening the menace of corruption in our country," the commission said in a statement.
The EFCC initially brought charges against Mr Ibori in early December 2007.
But the EFCC has been at the centre of a political storm in recent years - dogged by allegations of political bias.
Former EFCC head Nuhu Ribadu was removed from his post just two weeks after the charges were brought against Mr Ibori.
Mr Ribadu was seen as close to Mr Yar'Adua's predecessor Olusegun Obasanjo.
And last week the EFCC arrested senior critics of the government - who accused the commission of working to disrupt their plans to launch an opposition party for the next election.
Wide powers
Meanwhile, the UK authorities have also acted against Mr Ibori.
In 1997 a UK court froze assets allegedly belonging to him worth $35m (£21m). His annual salary was less than $25,000.
He had already left the UK when his assets were seized.
But several of his associates and his wife, Theresa Ibori, are facing trial on related charges in the UK next year.
Mr Ibori is named on legal documents as a co-conspirator in the UK case, which deals with alleged fraud from more than one Nigerian state's coffers.
But no charges have been laid against him.
Under Nigeria's federal system, state governors enjoy wide powers.
Those running oil-rich states have budgets larger than those of some African countries.
They enjoy immunity from prosecution while in power, but several have faced corruption charges since leaving office after the last election in 2007.
Just one former governor has so far been convicted - Edo State's former chief Lucky Igbinedion, who was fined $25,000 for embezzling $21m.