Emerhor USA Update: Visits Major Investors To Negotiate Investment Inflow For Delta State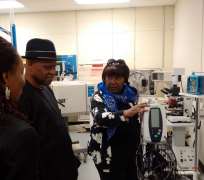 Olorogun O'tega Emerhor, APC Governorship candidate, accompanied by his wife Mrs. Rita Emerhor and entourage from Delta State met with potential investors today,13th March, 2015 in the State of Georgia, USA to discuss partnerships that will foster development in Delta State.
Olorogun O'tega Emerhor discussed modalities for collaboration and support in varied areas including equipment, books, educational and learning facilities for schools; supply of medical equipment, pharmaceutical products, medical training and management for hospitals.
As part of his 10 point agenda to create jobs and promote commerce and industry, better health-care and education, Emerhor discussed plans with potential partners to establish industries that will bring about job creation, entrepreneurship and other opportunities of development that will benefit all stakeholders in Delta State.
A tour of companies in manufacturing, supply of medical equipment and medicine; as well as visits to various companies in sectors that would bring about the desired transformation in Delta State was undertaken by Olorogun Emerhor and his entourage.
Emerhor stated that he will activate plans and arrangements already in place with investors willing to partner with his Administration in Delta State upon assumption of office that will enhance the delivery of dividends of democracy to the people of Delta.