Nollywood Giants Storm Kogi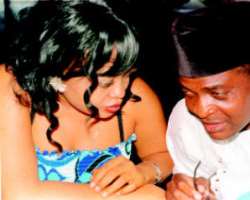 There was a ray of hope for Kogi State Chapter of the Actors Guild of Nigeria as for the State Government recently expressed willingness to partner with it towards extending the frontier of the movies industry.
The event which brought together renowned and budding actors from across the federation was organized to enhance the growth of the movie industry in the state.
According to the National President of the guild, the "association is out to complement government in the area of youth empowerment and job creation in the field of acting, production, marketing, directing, Costume designing, make-up, script writing, location management among others".
He further maintained that the association would also help in boosting the ever growing culture and tourism sector through their films.
Emeka emphasized the need for the state to assist the association in establishing a national secretariat which in line with his vision would have a hall for rehearsals, national marketing and distribution among others.
Governor Ibrahim Idris who described youth empowerment as a cardinal point of his administration, expressed his readiness to partner with the association to enable it sustain its global achievement.
Highlght 0f the event was the conferment of the guild grand patronship on the Governor based on his contribution to the growth of the association in the state.
Story by nollywoodgists.com