Bomb Blasts Kills 9 In Biu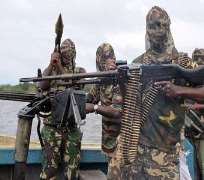 At least 9 people were killed at a military check point at the outskirt of Biu town, the headquarters of Biu local government area of Borno state along Biu –Maiduguri road when a suicide bombers detonated Improvised Explosive Device (IEDs)
A military source in Biu who does not want his name in print said that the suicide bombers 3 in number came in Keke NAPEP backed by a black Jeep when a Civilian JTF lady was trying to stop them where the terrorists shot at her and start shooting sporadically in the air before the suicide bombers in tri-cycles detonated the IED killing 8 people including the suicide bombers.
"The suicide bombing killed two members of civilian JTF and, the 3 suicide bombers and 4 other people mostly the street hawkers that are selling groundnut cake and other food items and that there was no casualty on the side of the military," he stated.
According to him," the Black jeep that opened fire on people after the blast ,zoomed off when they sighted angry youths moving towards the scene by making a U turn and escaped.
He said the corpses of those killed have been deposited at the Biu general hospital, while the injured are recieving treatment.
Confirming the incident, the Caretaker chairman Biu local government Umar Kadafur who visited the scene of the blast said that 9 people were killed including a female civilian JTF.