Re: Why Governor T. A. Orji Deserves Our Pity, A Rejoinder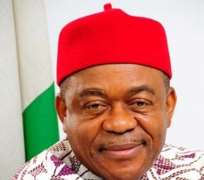 I read with a mixture of amusement and sad shaking of head the article penned by my brother Chinedu Ekeke with the above title. I will immediately proceed to address the issues he raised in his article.
First off, I consider Chinedu Ekeke a friend. I admire his intelligence and his advocacy endeavours over the years since I became active on Social Media. He is to all intents and purposes an 'Overlord' as we say on Twitter and I must say that Chinedu has carried his acquired status with integrity and humility devoid of the narcissism and hubris of some of his contemporaries.
In the build up to the 2015 Governorship elections in Abia State, I took a decision to relocate to Abia State to be a part of the process of transition in the hope that by so doing, I will be in a position to influence some of the change I envisage for my dear Abia State instead of staying afar off and heckling those in authority.
Incidentally, Chinedu took the same decision too. As fate would have it, we both relocated to Abia State to be a part of the campaigns but we ended up on different sides of the divide. While I am rooting for and actively canvassing support for Dr. Okezie Ikpeazu of the PDP, Chinedu is rooting for Alex Otti of the APGA.
Chinedu and I have had a couple of healthy exchanges on and offline in our bid to sell our candidates. We signed a virtual Peace Pact pledging that this political season would not affect our friendship and that we would remain above the fray of pettiness and name-calling.
I hasten to point out that the bulk of the issues Chinedu raised in his article of the above title were issues we discussed on twitter a while back. I wrote a Pro - Ikpeazu article and Chinedu took me up on it and tried to change my narrative. I stuck to what I felt were incontrovertible facts and we agreed to disagree on that note. Today, Chinedu has articulated the same argument he canvassed with me in his article and although he did not name me as one of those he dismissed in a derogatory fashion, because I am involved and because we have had this same discussion prior, I will proceed to answer Chinedu point for point.
1. Chinedu dismisses Dr. Okezie Ikpeazu for the simple reason that he enjoys the support of incumbent Governor T.A. Orji. Why Chinedu chooses to criminalise this is best left to him. What Chinedu has failed to tell us however is that his candidate, Alex Otti, lobbied and positioned himself for a very long time for that same support of the incumbent Governor. Otti only decamped from the PDP to APGA after Gov. Orji informed him clearly that the PDP has zoned it's Governorship ticket to Abia South Senatorial district and since Otti is not from there, he would not be able to support him for the ticket. Chinedu should please tell us if he would be so scathing and unsparing in his demonisation of Gov. T. A. Orji if Alex Otti had gotten the support he solicited from Gov. Orji.
And by the way, I don't do 'sauces'. I was Director of Protocol in Abia State in the build up to the 2011 elections. As the person in charge of coordinating the Governor's movements, Alex Otti called me then to request that he be put on notice whenever Gov. Orji had a function in Arochukwu so that he would be on ground to give 'his Governor' a befitting welcome to his community. I obliged him that request and for the 4 or 5 times Gov. Orji's re-election campaign train had an event in Arochukwu, Alex Otti would fly in by helicopter at short notice and arrange a reception for the Governor and his entourage at his palatial home in Arochukwu.
A major reason for this show of love was a request that he (Otti) would like to succeed Gov. Orji at the expiration of his tenure in 2015. We do not begrudge Alex Otti his aspiration. He is eminently qualified to govern Abia State. He should tell us what he wants to do for Abia State and quit whining about his opponent. Chinedu, I don't play games, run this by your principal and have him brief you accordingly then you may be circumspect in the vistas you choose to open in future.
2. Chinedu has against all reason chosen to dwell on the processes in the build up to the PDP Primaries that threw up Dr. Okezie Ikpeazu as winner. Like I said, we have argued this before. I will present my argument. Chinedu and his principal are now in APGA. Why then are they constipating over the internal processes of the PDP that they neither participated in nor have any stake in. I will give an analogy.
A number of Kano Princes justled to be crowned Emir of Kano upon the sad demise of Dr. Ado Bayero. In the end, Sanusi Lamido Sanusi was chosen as Emir. Despite their natural misgivings, the Princes that lost out in the race have since accepted the outcome and moved on. Why would a Zaria man be insisting that the process that threw up SLS as Emir was flawed if the Kano Princes supposedly wronged have accepted the process?
A number of aspirants contesting for the PDP ticket with Okezie Ikpeazu felt that the build up was faulty. They rightly protested. A meeting was called and issues were resolved. They all participated in the primaries. They sat through the process. Nobody staged a walk out. Nobody held a Press Conference AFTERWARDS denouncing the process. Nobody proceeded to hold a parallel primary.
All the aspirants sat till the end and when the results were announced with Okezie Ikpeazu emerging winner, they all congratulated him. Senator Enyinnaya Abaribe, a major contender for the ticket is leading Ikpeazu's campaign today. Ditto Acho Nwakanma. Emeka Wogu attends his rallies, Uche Ogah donated N5M during a recent fundraising. Pray, tell, who are those Chinedu Ekeke has appropriated the Locus to fight on their behalf as those opposed to the process?
3. Chinedu is miffed that those who have written in support of Ikpeazu believe he will win the elections. He dismisses the assertion and declares that Otti would win. He quotes people he has interacted with and suprisingly supports his assertion with an Opinion Poll by NOI Polls. Lol. Chinedu, you have railed against NOI Polls in time past accusing them of Voodoo polling. Why then are you quick to appropriate their work in support of your Candidate? NOI Poll are either accurate or they are wack. Stick to one narrative please. And still on NOI Polls calling the Abia Elections for Otti, can you share the result of their Poll for other states? Or was it just Abia? How curious is it that a Poll had no methodology, number of people polled, etc. Voodoo Polling anyone?
Chinedu, it is so beneath you to play trashy. Your article exposed your frustration that the Ikpeazu team are controlling the media narrative of how the Governorship contest is playing out in Abia State. Don't hate bro. Ask your people to step up. And no, I will hold you by the same standards you so often hold our National figures. You can't tank them for not addressing issues in their campaigns then turn around to promote pedestrian rumours on behalf of your Candidate. One rule across board please.
Finally, Chinedu, it was a pleasure hosting you for frank talks and drinks in my home in Umuahia. I look forward to further visits. I reiterate that this should not come between us irrespective of which side of the divide we belong to but best believe that if you Tarka my Candidate, then by jove I will Dabo yours.
Nodinma.
@hartng
Disclaimer:

"The views/contents expressed in this article are the sole responsibility of

Sam Hart

and do not necessarily reflect those of The Nigerian Voice. The Nigerian Voice will not be responsible or liable for any inaccurate or incorrect statements contained in this article."