Three-Day Prayer Session For Yar-Adua & Nigerians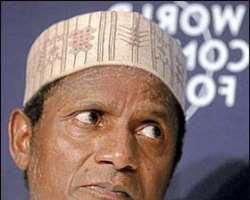 Nigerian President Yar'Adua
THE CONGRESS for National Transformation (CNT), a Nigerian non-¬governmental organization based in Ghana, has called on all Nigerians and friends of Nigeria to hold a three-day prayer session for the President and Commander-In-Chief of the Nigerian Armed Forces, His Excellency Alhaji Umar Musa Yar-Adua, and corporate Nigeria for peace, progress and tranquility from December 11 to 13, 2009.
A release issued and signed by both the President of the organization, Francis Okproko, and Samuel Deji Adeleye, the Secretary General, said a non-denominational service is planned to be held at the Nigerian High Commission on Saturday, December 12, 2009.
According to the release, the non-denominational service should be preceded by Muslim prayers on Friday and Jumat service on the 11th of December 2009.
A Sunday service is to be held in all Nigerian Churches on December 13, 2009.