Jikwoyi Mobil Fuel Station: A Center Of Attraction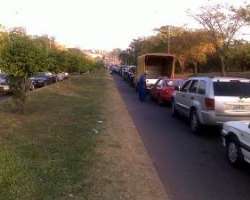 My name is Shira-Disa-ra Tari Kwaya.I have been resident in Jikwoyi in Abuja for the past five years now, Jikwoyi is a suburb of the Federal Capital Territory. It is a ward in Abuja Municipal Area Council.
If you have been in Lagos before, it is like Orile-iganmu, Ajegunle or Mushin, where, there are many number of the citizenry living in congested houses.
The only difference between Jikwoyi and other places mentioned in Lagos is that the space between houses and streets are wider here. Now, to the Mobil filling Station in Jikwoyi, the business of selling fuel is going on unfailing. There are always queues, if you want to buy fuel into your car. The disorderliness, hassle, bustle and the tension that is witnessed in other fuel stations in Nyanya, Mararaba, Madalla, Kurudu, Kpeyegi, other outskirts of Abuja are not so pronounced as the one here,because of the population explosion. But they have been able to control the situation to admiration of all. This is because they have enough number of staff who is good in crowd control. They manage situation by making sure everyone is in the queue, besides supervising staff who are assigned to take charge of the sales, in and out of the gates. Security personnel, who are also sometimes policemen, are here. Some of the supervisory staff, participate and do help a lot, that I cannot help,but had to imbibe their names by heart due to the articulate way of their doing things. From Auta Istifanus 070-36196862, Aliyu Suleiman 080-34744847 and Kris 080-58103032, who is always goggled and does burst in with his BMW like a pop king, all the time, Michael Obareki, 080-53576682 are some of the staffers working round the clock to ensure safety and orderliness. Some attendants too, at other period sometimes control the gate, including a Buzu man from Niger Republic, who turned down to give me his own name. Corporal Nansel Bowako, with number F/N 216950 – is the policeman, who is always around, but at other periods, there is reinforcement with four or five officers guided, by an officer of a rank of inspector, when there is an unprecedented surge. This happened recently particularly when tanker drivers went on strike and singularly, when the Federal Government decided to implement the deregulation of the downstream sector of the oil Industry. At the height of the alarming situation, the Manager – in charge of the Jikwoyi Fuel Station, off Nyanya- Keffi road, along Nyanya –Kpeyegi-Karshi road was on his feet with other Senior Staff. The manager, Mr Gabriel Udeh, a fine- disciplined gentleman was in total control. One of the toughest bold staff of the Station, Mr Gbenga Daudu, 080 60942444 was shuttling and strutting from one end to the other as motorists and okada riders lay siege and struggled to gain entry. Some other attendants like Florence Solomon and Joy,a beautiful damsel,who is eye-catching were busy handling the hoses and pumps with stress on their faces on this specific day.Gbenga Daudu deserves a special award of its own as he is untiring and relentless in controlling the situation. Mohammed Yakubu 0806 5632532 another supervisory staff, I observed on that the day was carrying a small note book and was jotting some figures,numbers and names,probably recording vehicles and motorcycle machines.I didn't talk to him much today.He was focused and totally concentrated.
Another senior staff that I saw going round making sure queues were enforced was Mr Kehinde Olugbenli, 080-23107287, 08033673090.
There is also Ibrahim Idowu.Another was Nurudeen Muhammad, who is in charge of changing engine oil, fuel filter and wheel balancing, was on his feet throughout this stressful time. There is yet another worker of the Jikwoyi Mobil Fuel Station, who is often seen busy and that is Idris Mudashiru.My dear friend, John Charles, a ruddy Youngman is permanently on the rails controlling the gate, but not this time as the statistic and number of customers have multiplied. He had more hands this week.It is like a battle front, everyone is occupied and busy.
Now, I want you to understand the reasons why Mobil Fuel station, Jikwoyi in Abuja has become centre of attention. One, it is relatively a new station, established this year. Two, the management here has enforced orderliness and discipline, that they have not being caught juggling their pumps.Each item sold at this Fuel Station, whether diesel or kerosene are sold at correct prices and no contamination of any kind or fraudulent act, has been detected so far. For a long time now, I have been cheated in the past in Gassol Local Government in Taraba State and in Potiskum, Yobe state, while on a journey to Jalingo and Maiduguri respectively. I have been a keen observer of fuel stations all over. I travel a lot and therefore have experienced water and petrol mixed or you are given less petrol for your money.There are times others will mix kerosene and petrol deliberately to cause disastrous explosions in homes. Or alternatively those, who change engine oil, pour in half and the engine un-gauged.
But all my observations on this Mobil Fuel Station Jikwoyi, Abuja FCT under good leadership of Mr Gabriel Udeh is superb.
They deserve an award really, either from one Non-Governmental Organization, the Mobil Nigeria Ltd as a conglomerate or somebody, some- where in the Oil Industry. Theirs has been a good management, at risk of being beaten by desperate angry car owners and hoodlums who come to buy to sell at roadside or the okada riders, who never relent at the gates. Sani Brothers Fuel Station, Nyanya, along Abuja-Keffi Expressway was recently sealed for unethical practices and selling at mid-night. Such ugly and evil practices are not noticed here in Jikwoyi Mobil Fuel Station, since establishment early this year.They deserve praise.They deserve individual and teamwork award. There is always fuel at the Mobil Fuel Station in Jikwoyi and you can get it in time and in an orderly manner, if you are patient and on the condition you queue.
Shira-Disa-ra-Tari Kwaya,
is a civil servant and resident at Flat 24, 'D' close,
Site 6 Aso Estate, Opposite Hotel Bencalik,
SSS Quarters Street, Phase 2 Jikwoyi, Abuja,
Federal Capital Territory. 070-30100941
E-mail: [email protected]
|
Article source