CBN to suspend banks over speculative forex demand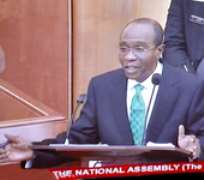 The Central Bank of Nigeria, CBN, yesterday threatened to suspend banks that help in fueling speculative demand of foreign exchange, forex , just as it pledged to support the productive sectors of the economy in its resolve to diversifying and grow the economy.
The CBN said that Nigerians should not panic as the fiscal and monetary authorities are on top of the current crude oil price crisis.
The CBN Governor, Mr. Godwin Emefiele, who spoke at a breakfast meeting with captains of industry and critical stakeholders in Lagos said There is 'need to moderate demand. No need to panic and front-load demand for foreign exchange. The CBN stands ready to meet genuine demand and stop speculative demand for foreign exchange. CBN will not hesitate to suspend dealership licenses of banks fueling speculative demand and involved in forex malpractices as well as infractions.
'We are monitoring the market to watch liquidity and would intervene when necessary. We have reserve of $34 billion at the moment and we will ensure that the reserve will not continue to go down but rise.'
The apex bank also assured Nigerians that it is monitoring development in both oil and non oil sectors of the economy and will continue to take appropriate measures aimed at addressing liquidity and external reserves, and urged Nigerians not to panic.
Emefiele continuing his address said 'We stand ready to defend the naira, foreign reserves and encourage export. We cannot allow market forces to determine the value of Naira because we are an import dependent nation. By the time we diversify our productive base and become less dependent on import, it is then we can allow market forces to play its role of determining the price of Naira. If we allow market forces to determine the value of Naira now it will halt the economy and the ordinary Nigerians will suffer. There should be a paradigm shift as we cannot continue to import everything we need'.
Commenting on some of the apex bank intervention in the financial market, the CBN Governor said 'We have recapitalised the Bureau de Change, BDC. This was done in order to streamline their operations and enhance transparency. We now issue forex to BDC directly; there was reduction in the amount of weekly forex sales to BDCs but recently it was increased to $30,000 weekly.
Continuing, Emefiele , said the CBN is considering halting sales of dollars to import goods that are already manufactured in the country as it seeks to reduce pressure on the local currency hit by a drop in oil prices.
'The only thing that will reduce pressure on our currency is by producing those things we are importing today, We will try as much as possible not to hurt your business, but we need to be able to work together.
According to the CBN Governor 'The CBN will meet legitimate demand, but we will not be concerned about illegitimate demand. If the central bank allowed the naira to trade more freely then it will lead to a major depreciation as Nigeria is not yet an export-driven economy.
Emefiele reiterated that the central bank has no plans to further devalue the currency. 'We continue to take all measures to defend the currency at the current exchange rate,' he said. - Vanguard.