5 Ways guys can arrange for foods when friends are visiting in Nigeria!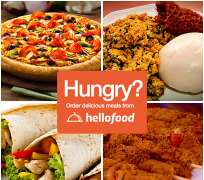 Friends visiting friends has become one of the ways we spend our weekends in Nigeria. After a long week at work, everyone cherishes that moment you chill at home with friends to laugh so hard and watch your favourite sports, movies or TV shows. What has equally become an important question is "what do you serve friends to eat when they are on such visits?" Eating is part of the fun, isn't it? Below are some of the options that might be helpful, feel free to add your own options in the comments section.
1 Try cooking yourself: I think it's becoming a thing of the past to say that African men don't cook. If I'm not mistaken, men dominate the list of best chefs in Nigeria. Cooking can be a huge fun and any man who still believes that it's an art for women should have a rethink. So, when the next time your friends are coming over, shock them by preparing one of our Nigerian cuisines yourself. If you're short of ideas, Mr. Google is always there to help out, you might also want to use some cookbooks. Since the taste of the dish is highly influenced by your grocery list, I'd recommend that you spend a little time planning this list. Perhaps it's worth calling your mum or sis to help you with the list of what you need to prepare vegetable, ewedu or egusi soups (if you haven't done it before). An advantage here is that there are some margins for error and there is no pressure at all as no one expects your meal to taste like that of your grandma! So get it started and who knows, you might be better than your grandma after the fifth trial.
2 Food Ordering: Depending on the type of friends coming over, cooking would be the preferred option in many cases but if the friends visiting are mates who hang out with you for some games (football or basketball), you might not want to interrupt the fun of the game by walking in and out of the kitchen. In this situation ordering pizza or burger would be an ideal move. What makes this option stand out is that it gives everyone the opportunity to choose exactly what they want – you might go for pizza while your friends would settle for kebab, amala, rice or pasta. Just like Google on the other end, Mr hellofood is always there to help you out in this case – don't know about hellofood? It's an online platform where you can order foods online and have them delivered to your doorstep.
3 Barbecuing: During summer in Europe and America people spend their weekends barbecuing in the balconies and gardens; in this part of the world we have summer all year long and it's high time we started taking advantage of that. So, guys why not start it off by setting up barbecue stands the next time friends are coming over.
What do you need for this?
(a) Barbecue stand
(b) charcoal if your barbecue stand isn't powered by gas
(c) Meat and Hot dogs
(d) Corn – to be roasted depending on how you want it
(e) Vegetables – a plate of Coleslaw is always a good combo
(f) Drinks and more drinks depending on how long you want to go!
The very good thing about this option is that it can be combined with option 1 or 2 above.
4 Calling for help: Being a bachelor doesn't mean that you're all alone in your own world. You've got your mum, sisters and in most cases a girlfriend. So why not leverage these relationships, call them and let them know you're out of your league on this one. I trust they would be more than happy to help. This might also present an opportunity for you to learn how to make some African cuisines. Don't play the king by giving them the money to prepare the dishes, get involved by planning the grocery list and sitting with them in the kitchen to learn the cooking. I challenge you, option 4 is to prepare you for option 1, so if you settle for 4 this weekend, be ready to take on 1 in the coming months.
5 Serving only snacks and drinks: This might be seen as the easiest option but then, you can only resort to this when you don't have enough time to plan for the other options above. As African men, we eat heavy, snacks could come in as some "go between" but not when friends are coming to be with you for hours. Also, experience has shown that eating very well before drinking makes one feel much better. If time is the problem here, you can settle for the second option (order good food online), which gives each person his/her preferred meal combination without spending extra time on cooking and dish washing. On the other hand, cooking doesn't take as much time as we always complain – so get some cooking lessons and I bet you'd be glad you did!