Govt approves 1million meters for electricity consumers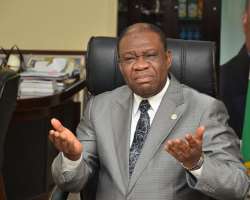 The Federal Government has approved the provision of one million meters for distribution to electricity consumers in the country.
The Ministry of Power, which made the announcement in Abuja yesterday, also set a new electricity generation target of 6,000 megawatts before the end of this year. And this is as government announced that generation has moved from 3,000mw recorded last month to 4,300.
 The Minister of Power, Prof. Chinedu Nebo, who disclosed the new details at a town hall meeting on the power sector held in Abuja, said: 'The peak for yesterday (Wednesday) was 4,405mw with a spinning reserve of 70mw. So, you can see that we are getting there. At 6:00 a.m. today (yesterday), it was over 4,300mw with spinning reserves. So, we have really gone a long way.'
  The power minister also unveiled an electricity market plan covering 2015-2017, saying that by the plan, government intends to generate 10,000mw by next year and 12,500 by 2017.
  His words: 'And then we have an outlook for 2015 to 2017. We have the capacity. We are going to do that shortly by the grace of God this year. But beyond that, by 2016, we expect to get up to 10,000MW and by 2017, to 12,500.'
   On the approval to procure meters, Nebo explained further: 'The reason we are giving out these meters is because government still owns 40 per cent of all the discos. So, it is servicing its own portion of the ownership of the discos. They are 100 per cent in private hands but government still owns some shares in these companies.'
  On commercial losses due to inadequate meters, he said: 'We are not losing enough due to technical issues, it is commercial losses because the discos are not collecting enough. Many people are not paying. Some people are under-billed while some are over-billed.'
  Besides, the minister said the Transmission Company of Nigeria (TCN) had an increased capacity to evacuate 5,500mw, stressing that government was in partnership with an international agency to provide sensors on pipelines in order to detect spots and time of vandalism instantly.
  His words: 'The President is working hard to banish the vandals of our oil and gas and transmission infrastructure. And he is working on getting an international agency to digitise the entire pipeline so that there will be sensors planted so that whenever people approach them, it will be easy to detect where people are going. It will be easier to repulse them but if they insist.
  He, therefore, called for a legislation to prosecute vandals of power and gas installations, noting: 'We need to get to the root of the matter. Those who have been arrested have not been able to tell us those who are sponsoring them.'