Youth group warns Patience Jonathan against Bayelsa visit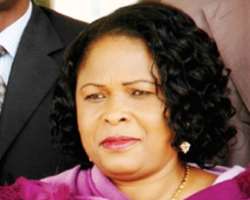 A group of concerned youths in Bayelsa State under the auspices of Bayelsa Youth Vanguard, has threatened to disrupt the Peoples Democratic Party presidential rally if the First Lady, Mrs. Patience Jonathan, comes with her husband, President Goodluck Jonathan.
The rally is slated for February 5 at the state capital, Yenagoa.
The organization therefore warned the First Lady not to accompany her husband for the presidential campaign.
The warning, the group said, was sequel to what it described as attempts by the First Lady to destabilize the state and fuel needless crisis and political tension in the state.
The Spokesperson of BYV, Precious Ebi Johnson, in a statement made available to our correspondent in Abuja on Thursday, said that the First Lady would only be allowed to come to the state 'unless she retraced her steps or otherwise we will mobilize against the president's rally.'
The statement read in part, 'We are constrained to issue this statement bearing this important warning to bar the First Lady from accompanying President Goodluck Jonathan to Yenagoa, the Bayelsa State capital, for the presidential rally on 5th of February.
'Our action is well informed by the various steps and activities of the First Lady in recent times which portend clear danger for the good health of our dear state.
'We note with regret the various attempts by the First Lady to create crisis in the state through subterfuge or using surrogates.
'As things are, we want to make it very clear to her that she has to change this attitude or we go against her coming to Yenagoa with the president for the presidential campaign.
'Indeed, we may be forced to mobilize against the entire rally.
'For the avoidance of doubt, we want to state clearly that we love our dear president. President Goodluck Jonathan is our own even when we have to add that we have not really benefited from his administration as expected.
'We dare say the president should not come to Bayelsa with his wife if she continues to fuel crisis and destabilise the state for selfish reasons. This is not Rivers State and we won't allow it to happen.'
He said that the youths of Bayelsa will not allow her to step her foot into Bayelsa soil unless she retraced her steps.
He said it would be wrong to assume that they were sponsored by anyone to issue the warning. - Punch.