Leonard Umunna: Africa's Best Bishop For 2014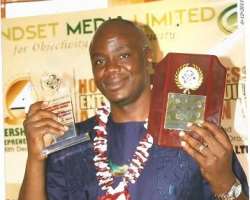 Barely 60 years and 6 months ago when Bishop Leonard Umunna was born into this world, neither his parents, relatives nor Igbo extraction knew what he would become in life but God destined him to be number one Pentecostal bishop in Africa. He is the Presiding Bishop of one the largest Pentecostal churches in Africa and Nigeria.
Bishop Leonard Nwaoma Umunna, a dedicated General Overseer, seasoned Christian writer, business consultant, entrepreneur, dramatist, music producer, lecturer, grassroots sports supporter and astute manager of both human and material resources, he has proven himself as a good manager, not just in private sector only, but also in public sector.
Born exactly on the 25th of June 1954 in Itu, Ezinihitte,LGA,Imo State.
Bishop Leonard Umunna is a good example of a man who grew from a humble background to become a crème da la crème in the society. He never had opportunity to attend a primary or secondary school but self-schooled himself to the University level. It is no longer news that Bishop Umunna was born vomiting multi-color substances but the news is that Bishop Umunna has able to weather the storm of ministerial tribulation at 60 and above. Only few gospel ministers that started ministry in their 60s are still in ministry till now. Some were attacked by the powers of darkness and while others were carried away by the fame of the mundane things but Bishop Leonard Umunna remains faithful in the gospel of Christ.
Having met a man who came to buy a sachet of purified water from the young boy Umunna while trying to eke out a living in Lagos, he decided to play a widomite spirit to give the man the sachet water free and the man wanted to reject the gift, thought that the business was owned by Leonard Umunna elder's brother but he told him, he owned the business. That was how; he was introduced into a copy typist that paved way for him in the former defunct Nigeria National Supply Company (NNSC) from a copy typist to a manager.
In his drive for a good academic career, he furthered his studies by taking of a Masters Degree in Business Administration, Masters Degree in Education, Doctorate Degrees in Divinity-GMF and Literature-USA; Fellow of the Chartered Institute of Public Administration; also fellow Strategic Finance and Administrative Institute, Visiting Faculty London College of Theology and currently, General of GM Chaplaincy and Professor of Christian leadership.
Leonard Umunna, aside his ministerial calling, he is a good businessman and entrepreneur with good business skills and acumen. He is the Chairman and Managing Director of Leonard Umunna College, Leonard Umunna hospital, Extra and Real Nursery and Primary School, Leonard Umunna TV Channel ,Bible Life Church Cathedral Achievers Power Publishers, Bishop Leonard Umunna foundation, Leonard Umunna Bible Quiz competition,GOSEC and Umunna landed properties.
This illustrious entrepreneur and General Overseer is also a philanthropist whose main goal is to help the less privileged ones in Nigeria. He is the founder of Leonard Umunna foundation and its empowerment wing. This foundation of Leonard Umunna to raise young people to identify their talents in life. Leonard Umunna foundation has distinguished itself not just for mere religious patronage, but as an empowerment organization that is selfless, geninue and patriotic. The Professor Leonard Umunna foundation has touched the lives of both the rich and the poor in Ajegunle and beyond. Ranging from scholarships, notebooks, accommodation, cars and other study aids to make indigent students happy in life. The only Africa's bishop that pays unemployed members' salaries without any second thought. Yes it can't be wrong for anyone to say that the Leonard Umunna's empowerment programme has touched lives of the very poor.
As a strong proponent of sustainable capital and human development, he is also the visiting Professor of GMF University, a University founded to teach leaders on ethics of leadership in Africa. Bishop Leonard Umunna lately received a distinguished award from Ghana this year for his religious contribution to the Pentecostal church.
For his outstanding contribution in the gospel of Christ education and community development, he has received over 100 meritorious awards both National and International. His impeccable performance in ministry and education has earned much respect in Nigeria. The like of Jonathan, Fashola , Okorocha and others must recognize a minister of God who has provide large employment for the youths including orphans in Nigeria. He is the only Ajegunle bishop that has visited Aso Rock to pray for the former President Olusegun Obasanjo.
Unlike a popular saying that a prophet is not recognized in his home town, but Leonard Umunna is a man respected both at home and abroad, that was why Imo State were he hailed from, some years ago, they gathered in large numbers to receive their anointed son, who have made them proud in life. His quest for knowledge has led him to study courses in management and entrepreneurship. He loves seeing people around him making significant progresses in their chosen careers. He remains one of the bishops Africa has ever produced in this endtime.He is happily blessed with 6 children and two grandchildren.
By Godday Odidi
Bishop Leonard Umunna's Media Consultant/Online editor/Mindset Media
08058124798
Lagos
Disclaimer:

"The views/contents expressed in this article are the sole responsibility of the author(s) and do not necessarily reflect those of The Nigerian Voice. The Nigerian Voice will not be responsible or liable for any inaccurate or incorrect statements contained in this article."
Articles by Godday Odidi