Imo: APGA guber candidate, Iheanacho vows to defeat Okorocha in 2015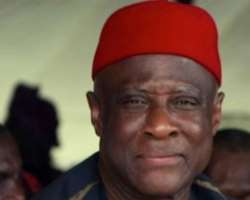 The governorship candidate of All Progressives Grand Alliance (APGA) in Imo State, Emmanuel Iheanacho, said he would win the 2015 governorship election because his party's programmes were people-friendly.
Iheanacho will come up against the incumbent governor, Rochas Okorocha of the All Progressives Congress who is seeking a second term in office.
Iheanacho, who is the immediate past Minister of Interior, expressed the confidence in an interview with newsmen during the Special National Convention of the party in Awka, Anambra, on Wednesday.
He said that the governorship battle in Imo was one of ideas and not material resources, adding that the availability of resources to his opponents would not deter him from winning.
'The problem in Imo is that projects are started but never finished.
'We have also seen infrastructural projects embarked on in the state but they are not in any strategic frame work of development,' he said.
He promised to provide employment for graduates in the state who had remained unemployed for no fewer than 10 years.
'What is the benefit of education, whether it is free or not, if it does not lead to a gainful employment at the end.
'The present administration is an uncoordinated system; nobody coordinates curriculum or even the human resources of the state.
'It seems to me that what has started as a rescue project now needs to be rescued,' he said.
The APGA's flag-bearer expressed confidence that 'just as the people voted out an incumbent in 2011,' it would be repeated in 2015.