How Oritsefemi Escaped Death After Being Chased By Armed Robbers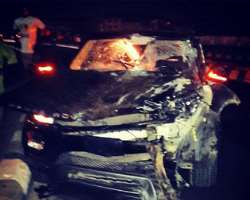 The Double wahala crooner "Oritsefemi" was recently involved in a ghastly motor accident during an armed robbery attack in Lagos.
The popular musician was in his newly acquired 2014 Range Rover Evogue which was presented to him last week by his record label, Avatar.
It was gathered that Oritsefemi was returning from an event at about 3:30am at Ilupeju when he noticed a Toyota Camry car and another unidentified car on his trail.
On getting to Fadeyi, the suspected robbers pulled up behind him and gave him a chase, apparently to snatch the Range Rover car.
In the ensuing chase, Oritsefemi running for dear life was hit by a moving truck.
Incest by the accident, the robbers alighted and approached Oritsefemi and the other occupant of the car but had to make a retreat when sympathizers jumped out of their cars to rescue Oritsefemi from the damaged car.
"The suspected gunmen approached the driver.
They ordered him to stop. Pointing guns at him, but Danku refused to stop.
He accelerated trying to escape. While he was struggling with the robbers,a truck conveying loads of Cement hit the vehicle accidentally. The Range's driver's side was smashed. Danku lost control. The truck hit him by the chest through the driver's side. The airbag came out immediately", Oritsefemi revealed.
"I was at the back the back seat with my brother. I quickly cried for help before some Good Samaritans rushed out from unknown area in Surulere to rescue Danku who had already been in coma. He could neither talk nor see anyone at the point".
He has been hospitalized in Ikeja where he is recuperating.
"I thank God for my life and manager. No life was lost. My fans should pray for me", Oritsefemi Concluded.