Julius Agwu's Comedy Highlights in Houston, Texas at the GIAMA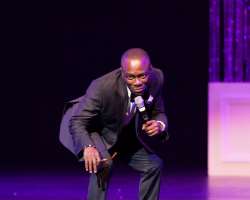 The 2014 Host of the Golden Icons Academy Movie Awards (GIAMA), Julius Agwu, who is considered as one of the greatest pioneers of African comedy and a versatile entertainer that has graced many platforms with rib cracking jokes and on-stage spontaneity completely rocked the stage on the night of the award and kept the audience entertained throughout the event.
We are now bringing to your view key moments captured from his on-stage performance which included jokes about Communal living, Impact of Ebola on Nigerian Police and a lot more.
Not only did Julius captivate the audience with his ingeniously-crafted and funny jokes, but he also wowed the audience with a wide array of outfits he wore on stage, that were specially designed by top award winning Nigerian designer "Jaiye Owolabi" of MoodDeo Bespokefor the 2014 GIAMA.