Seyi Law Displays Another Talent Aside Comedy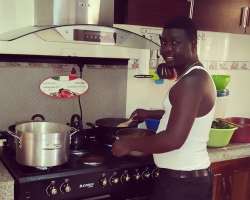 Popular rib-cracker, Seyi Law, has shown that whatever a woman can do, a man can do better. The Samsung brand ambassador, who climbed into success after emerging winner of the AY Open Mic competition.
He recently stormed his kitchen to show his cooking skill and boasted about it.
According to him, four different delicacies were cooked by him, which are vegetable soup, fresh fish soup, turkey stew and okro soup. The comedian further boasted that that he would be willing to be a master chef to any client that can pay the bills.
He said, "Something I do as good as comedy. Cooking is my thingy. Y'all wanna taste."
"The kitchen is my gym. I flex my muscles here. Lol" he boasted.