Boy Attacked By Dog In Igando Forcefully Discharged From Hospital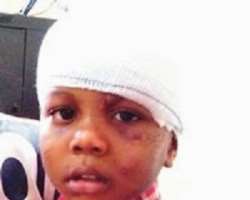 The last has not been heard of the innocent four-year-old boy who sustained extensive injuries in the head following attack by dogs in Igando area of Lagos State. Few days ago, against the advice of the medics, his father, Mr. Odia Abraham, discharged his son from the hospital.
The little lad had suffered life-threatening injuries after the attack by the two Alsatian dogs in the compound of their rented apartment at 35, Adegboyega Street, Akesan, Igando area of Lagos State on September 29, 2014.
For reasons best known to Mr. Abraham, but against the quick recovery of his injured son, he removed him from the Burns and Plastics unit of the Lagos State University Teaching Hospital, LASUTH, where he was receiving specialist care.
Commissioner for Health, Dr. Jide Idris, who made this known while reviewing report of the specialists that attended to Omonigho at LASUTH, said the boy's father took an ill-advised step and chose to take his son out of the hands of the plastic surgery specialists in LASUTH on November 28, 2014 against medical advice that healthy granulation tissue growing on his son's skull must not be interrupted.
According to him, all attempts to talk to Mr. Abraham against taking the step were rebuffed and that he signed the necessary papers.
Idris said the attention of Lagos State Government, particularly Governor Babatunde Fashola, was drawn to Omonigho's case, who was initially rushed to the Igando General Hospital, where he was stabilized by the medical team at the Accidents and Emergency ward of the hospital.
The commissioner added that Omonigho was thereafter referred to the Burns and Plastics unit of LASUTH, where specialists in the department assessed him and promptly began to manage the life threatening avulsion injuries on his scalp, which left most of his skull exposed.© 2014Nollywoodgists.com