Why My Jean Will Swear For Me…….. Ali Baba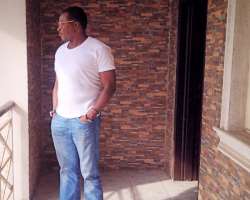 As humans, there's this atom of jealousy we feel seeing our partner get romantically entangled with another person, be it in movies or in the real world but that seems not to be the case with Nollywood actor, Yemi Blaq and his wife.
Yemi admitted that his wife is so supportive, and encourages him to be the best in his field, even when acting romantic scenes.
Yemi revealed that his wife, Remi Ibinola Olatunji Blaq, who is also in the industry, encourages him to make his kissing scenes real
"She's okay with it. My wife is a professional through and through. When we were shooting 'The Distance Between', my wife wrote the script. She wrote my character to have a romantic relationship with both Rita Dominic and Mercy Johnson.
She was on set while we were shooting and after doing a kissing scene with Mercy Johnson, my wife called me aside and said "That kiss is not real. You need to make it real. She knows that as long as I'm on set, it's my job and I'm doing the kissing not because I'm enjoying a kiss from a woman, but because it's the character doing the kissing, not me. If I kiss a girl outside the set, I'll have a lot of questions to answer,' he said in a recent interview.