Oge Okoye Becomes Jealous Of Friend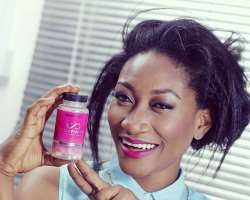 Nollywood actress, Oge Okoye, is not relenting in her efforts in discovering new products that is meant to enhance a woman's beauty as she keeps shuttling between movie location and business travels towards discovering new products.
The unique aspect of the Glams world boss is that before she puts out any product, it seems she puts them to test before recommending it to her fans. The actress, recently discovered a new hair product which she says enhances good hair growth.
Though, from observation, the actress, has good hairs, but she disclosed that her hair is weakening and she plans on giving it a new look.
"Hey dolls n' Kings. So I just met this new gorgeous friend with the most amazing weave. Well, the amazing "Weave" turns out to be her natural hair and I've been totally green with envy. She swears @Hairfinity Hair Vitamins is the secret to her long, thick bouncy hair with the fullest hairline ever. With my seriously thinning hairline and split ends, I'm super excited to try the #Hairfinity magic! So #hairfinity day one."