Where I Got Money To Purchase My Nomination Form—Dayo Adeneye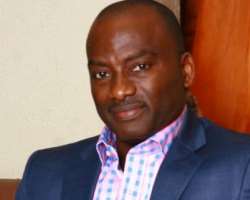 That some Nigerian entertainers are finding a 'surprise' love in politics is no longer news, but one of the questions in the mind of some of those following the trend is, 'how would these entertainers fund their political career' having in mind that it is expensive to fund political campaigns.
Political parties in Nigeria asked members interested in contesting for various positions on their platform to pay for expression of interest and nomination forms, which some described as too costly.
Nigeria's major political parties, the Peoples Democratic Party (PDP) and the All Progressives Congress (APC) recently sold their presidential forms for N22.5million and N22.7million respectively,
Media guru, Dayo Adeneye, aka D1, recently declared his intention to represent the people of Odogbolu at the Ogun State House of Assembly.
During an interview on 'Prime Time Africa,' which he co-presents with Kenny Ogungbe, D1 revealed that he never begged anyone for money to obtain his nomination form, but used the money he had saved in his current account for it.
He explained that he changed his mind on politics after he recalled the advice given to him by DAAR Communications boss, Chief Raymond Dopkesi, when he was base abroad.