Economic shut down: NUPENG, PENGASSAN hold emergency meeting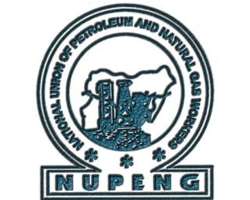 The Nigerian Union of Petroleum and Natural Gas Workers, NUPENG, and Petroleum and Natural Gas Senior Staff Association of Nigeria, PENGASSAN, will hold a joint emergency meeting on Monday to take a position on the threat to shut the economy.
The unions had issued ultimatum after their joint National Executive Council, NEC, meeting in Abuja on October 31, 2014, that they would paralyze the nation's economy, if the management of Total Exploration and Production, TOTAL E&P, refused to recall sacked members of the unions within 14 days.
They also promised to bring all their members to the streets if nothing was done to tackle security challenges in the country as well as address the poor state of the federal roads, especially in their operational base.
But in an interview in Abuja, president of NUPENG, Mr. Igwe Achese, said nothing concrete had been done by the government and the oil company to avert the planned economic shut down.
Achese said: 'For now, we have not seen any committed conveyance of any meeting of such, but the Permanent Secretary of the Ministry of Petroleum has called for a consultation meeting to find out exactly what issues are being raised, how it affects the sector and the unions.
'But no concrete issues or decisions have been taken because at a point, the minister assumed that some of those issues raised were beyond their purview, beyond their portfolio to handle.
'So, it means, we need to go further and I hope that government in its initiative will act quickly to avert any ugly situation.
'Of course, we are conveying another emergency joint council meeting, hopefully on Monday, to review the activities so far after the meeting we held with the ministry of Petroleum and then to also know the roles that are expected and the next line of action to take as soon as possible.'
Achese said the ultimatum was expected to expire on November 17, 2014. - Vanguard.