Lotto has created employment opportunities for Nigerian youths - Mr.Boladek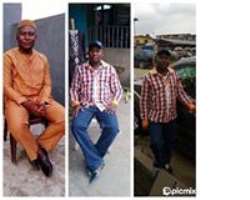 Mr.Rasheed Bola Adekunle is the Managing Director of Global Ventures Limited. He is fondly called as" Boladek "by admirers. His company is registered with Corporate Affairs Commission (CAC) two years ago but he has been in the lotto business for over 15 years now. He has over 10 lotto outlets spread across Lagos State with 21st century knowledge in business. He is a major agent to some of the lotto operators in Nigeria. The Kwara State- born entrepreneur whose advice of his dear friend has earned him millionaires of naira in lotto business has every reason to thank God in his life. In this brief interview with Godday Odidi, he explained why lotto business remains a viable means of creating youth employment in Nigeria and other sundry issues.
Excerpts:
Let's meet you sir?
I am Rasheed Bola Adekunle, the Managing Director of Global Ventures Limited. I am popularly called as "Boladek" by my veritable admirers. I read Electrical Engineering (EE) from Lagos State Polytechnic few years ago. I am from Kwara State but lives in Lagos.
What motivated you into lottery business?
I was into supply of engine oil until; one of my friends advised me to go into lottery business which I accepted. I am a major agent of three lotto businesses in Lagos State and Nigeria. The three lotto businesses are 1960 bet, Premier lotto and gab lotto. It does not take much to go into lotto business if you have the calling or passion for genuine business. Many see lotto business for those that are not serious in life but I want to tell you here that reputable lawyers, journalists, lecturers, doctors, politicians, engineers and others patronise us. It is not a business for mediocre. I am a trained graduate to the core. Our lotto outlets remain the best among all. Though, I never had passion to play coupon anyway. We have used the lotto business to create jobs for our teeming youths across Nigeria.
Are you a politician in Ifelodun LCDA?
I am not a politician but I have total respect for the former Ifelodun LCDA chairman, Alhaji Hon.Fatai Ajidagba for his great massive infrastructural development. I am not ready to join murky waters of Nigerian politics because I am comfortable with my business.
Have you received any award before?
Oh yes! I have received three meritorious awards from different organisations including one Inside-Ajeromi newspaper. I am happy that people appreciate my selfless services to humanity in Ifelodun LCDA and Nigeria.
Are you a fulfilled businessman?
Yes of course! I have used the lotto business to better my life and others. I don't play with other people's money. I separate lotto money from my own money. Any business someone embarks on, you must be sincere to attract clients. Honesty has been my watchdog of this lotto business. I ensure that lotto winners get their money and nothing else. God has blessed me. We have able to put smiles on many Nigerians and beyond.
Any regret or challenge of life?
I have no challenge in my life. Everything you do in life, you must acknowledge the presence of God in one's life and nothing more. I believe Global Ventures Limited is my pride in life. As a staunch Muslim, we believe that business must have high level of sincerity.
What is your message for the upcoming entrepreneurs like you?
Lotto business is not meant for charlatans or hooligans but for highly trained professionals in Nigeria and abroad. They must be patient in business. It is not every time you must gain as far life continues.