19th Anniversary of Ogoni 9, November 10, 2014
OGONI INAUGURATES A NEW ELECTORAL COMMISSION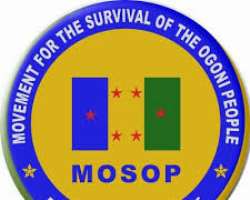 65 aspirants vie for president of Ogoni, provincial governors, Ogoni national legislative assembly leaders and president and judges of customary courts.
Rev. Sir Mike Ibirah, the President of Council of Ogoni Churches is the Chairman of the Commission.
Performing the ceremony, MOSOP President and Spokesman, Dr. Goodluck Diigbo, said that the significance of the hanging of the Ogoni 9 cannot be clearly understood, unless the people of Ogoni taste the fruits of self-government.
The ceremony was the highlight of the 19th anniversary of the hanging of the Ogoni 9 held at Ken Saro-Wiwa Peace and Freedom Center, Bori, Capital City of Ogoni Nation on Monday, November 10, 2014.
Diigbo who narrowly escaped the hanging, explained that the sacrifice of the heroes has guaranteed self-government as a birthright to the Ogoni people, and that no one can take it away from them.
He said to embrace self-government means acceptance of responsibility and accountability in the service of the people.
Diigbo said the United Nations Declaration on the Rights of Indigenous Peoples would be fully implemented in Ogoniland, while coming elections of leaders represent the final step to a full fledge self-government.
He inaugurated the Ogoni Electoral Commission, OGECO to elect leaders into various offices under the Ogoni Central Indigenous Authority.
Reverend Sir Mike Ibirah – the President of Council of Ogoni Churches is the chairman.
Over 65 aspirants have indicated their interest to serve in various capacity, including president, provincial governors, Ogoni National Legislative Assembly leaders and Ogoni Customary president and judges. While village councils have attracted over 200 aspirants.
He said since 1993, over 3,000 Ogonis have paid the price for freedom, and that self-government was the prize for the Ogoni nation.

Tambari Deekor
Editor, MOSOP Media
[email protected]