How to identify fake Lace Wig — Bettina Briggs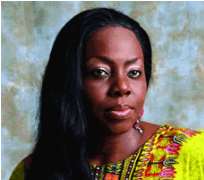 Bettina Sibo Briggs, Managing Director, Hollywood Hair Centre, is one of the first set of people that brought the Full Lace Wig into Nigeria and the trend grew like wild fire especially among celebrity women in Nigeria. You cannot mistake her anywhere in the crowd because her unique Hollywood hair style stands her out.
She does not only sell and fix full lace wig, she also refills the wigs when they start shredding. "I must also point out that all the lace wigs you see in the market are not the same; there are some good and bad ones. I have also seen some bad looking lace wigs and also badly fixed lace wig. Lace wig is supposed to look natural with illusion of a healthy hairline and not looking like a wig or a cap which I see a lot of women with".
As a professional, she advises on how to wear a lace wig. "To wear a natural looking lace wig, the base of the lace wig has to look natural and the density of the hair lesser at the hairline".
What does it really take to make a lace wig? She says, "it takes hours to hand-make a quality lace wig, but some companies are sacrificing quality and making a lot of women to buy a less than stellar full lace wig. I see some lace wig that people bring to my salon to fix that are machine made instead of hand made. Some are also animal hair blended together and not 100 per cent human hair. When the lace wig is not 100 per cent human hair, it tangles when washed and the life span of two years which is expected on a good lace wig, will not be achieved".
"With fly-by-night lace wig retailers popping up all over the internet over-night and being bought by our women, lace wig has gone from flashy to trashy. When buying a lace wig, cheaper is not the key word but undetectable lace base, natural appearance, 100 per cent human hair, double knotted, gradual density, french lace and natural looking baby hair, all in one".

To ensure that women get the best of Lace wig, she is spreading her tentacles to Port Harcourt and Uyo before the end of March. "We at Hollywood hair centre, are determined to make our women wear a realistic looking lace wig and look like Holllywood stars and we are not stopping in Lagos and Port Harcourt we are opening in Uyo on 27th March and still moving".
Story by nollywoodgists.com