THE HIDDEN MONUMENTAL CORRUPT DETAILS OF GOV UDUAGHAN OF DELTA STATE (PART 1)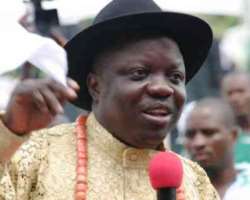 As the race to 2015 heats on in Delta State, many Nigerians especially Deltans are not aware of why Delta State Governor, Emmanuel Ewetan Uduaghan is fighting tooth and nail to install his successor who he can play ping pong (apologies to my revered senior brother and legal icon, Festus Keyamo), while he dons agbada in the Senate, but extensive investigations carried out by this writer and written in feature form has unearthed many cans of worms that the governor has kept for many years.
Unknown to Deltans, the governor who is a medical doctor after watching Shell collapse in Warri and moved over to Port Harcourt for oil exploration quickly bought over the popular Shell Hospital, Ogunu. As if that was not enough; set to live a life of affluence and secure his hundred generations, he bought 60% of the houses in Shell Housing Estate, Ogunu.
VEERED INTO COMMUNICATION, BANKING AND HOTEL
Doctor Uduaghan who had earlier been reported to buy some section of the online media and soft sell papers may not be a banker nor a media person, but days of extensive searching and investigation by this writer brought forth a shocker. For those who were present during the launching of Rave TV widely believed to be owned by amazing celebrated Television hostess of 'Inside Out', Agatha Amata; what they don't know is that Rave TV, which airs on Startimes Channel 125 and continental satellite 'Consat' and was commissioned on August 8th 2014 by Emmanuel Uduaghan is ironically own by the governor, but fronted for by Agatha, revealed a very reliable source.
Away from Communication, the chubby Delta State Governor is a proud share holder of a new generation bank. While many Nigerians wondered how a new entrant into the sector could muscle the financial strength to acquire a bubbling bank like Enterprise Bank where banks like Fidelity Bank failed, very authentic sources revealed that Uduaghan is the financial brain behind it, owning majority of the shares. If you are still wondering the bank in question; HERITAGE BANK is the name where the governor has stashed away millions.
Away from the banking and communication sector, the governor who has won many Newspapers Man of the year is reliably gathered is the owner of a new hotel being built in Asaba. To remove the eyes of the prying public, one of his fronts, Tuoyo is normally pointed at as owning the over 5 storey eye popping mansion, which has gulped over N300 million, with more still to be spent for finishing and furnishing.
HIS BROKEN DEAL WITH ZENITH BANK AND CONTRACT FRAUD
He is not just a governor but a philanderer. While Delta State battle ghost workers in the state, information not known to the public is that a company by name, HEKERBELLA was given the contract to fish out the ghost workers. In complete disregard for due process of bidding, the contract was awarded at a staggering amount of N1.9 billion, with 60% of the money paid up front. The N1.9 billion when calculated surpasses the amount to be paid to the said ghost workers for the governor's eight years of misrule. Who else will get such contract for this amount but Laikan, his girlfriend?
The Delta State government according to sources has already created financial problems to the incoming government, as they have plunged the state into a huge debt of N200 billion bonds taken from banks. This writer learnt that the government approached Zenith Bank to plead with them to pay the contractors while they sign a guaranty to pay back within three (3) years, a deal which was rejected by Zenith insisting that the government agree to sign and pay within eighteen (18) months. Various forces in the state who are in the know have told Zenith Bank never to agree to pay the contractors.
Jobs handled by the main consultant through the Directorate of Infrastructures are widely known to be owned by a certain Itsekiri man fronting for him. Ninety percent of the fraudulent kickback goes to the governor, while just ten percent is given to the frontier. This sharing formula is currently tearing the relationship apart, as the front is no longer comfortable with the little he gets.
The massive Delta House also called Guinea House in Lagos has also been sold by the governor to his crony, Peter Nwaoboshi, former Peoples Democratic Party (PDP) State Chairman for a mere sum of N805 Million instead of the N4.5 billion that it was estimated for. The governor according to many frustrated Deltans who have judged his reigned as likened to Rehoboam has successfully prepared his way to jail, if the anti-corruption agencies should begin a search on the State financial books.
Disclaimer:

"The views/contents expressed in this article are the sole responsibility of the author(s) and do not necessarily reflect those of The Nigerian Voice. The Nigerian Voice will not be responsible or liable for any inaccurate or incorrect statements contained in this article."
Articles by Fejiro Oliver