Rivers AC & the Prayer warriors for Yar'Adua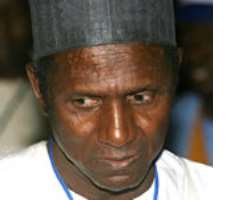 Following the news making the rounds in the newspapers that the Rivers State Action Congress (RSAC), has called for its members to pray for President Musa Yar'Adua as he undergoes a medical checkup in Saudi-Arabia as reported by Eze Chukwuemeka Eze who claims to be the party's Publicity Secratary, the Rivers State Action Congress confirms that while the Party under the office of the State Chairman, Suage Badey and members of Action Congress Rivers State wishes the President quick recovery and Prayers from all Nigerians at this time, we however call on the general public to discountenance the said publication which at some point touched on the health of the President in an embarrassing manner. We all have health problems from time to time and the President being a human is no exception.

Speaking on the same issue, Chief Gift Okocha, the chairman of the RSAC forum of chairman said, "It is very unfortunate, indeed, that while the Nigerian nation is applying lead, hook and sinker in making sure that the nation is re-branded from the hold of 'military' mentality, the likes of Eze Chukwuemeka Eze wouldn't want to be re-branded, in short, he doesn't like the word, Re-branding. How could Eze Chukwuemeka Eze love this re-branding programme by our own Prof. Dora Akunyili when he can not heed to a simple suspension the enlarged exco of the Rivers State Action Congress (RSAC) passed on him on the 20th Nov. 2009, to cease from becoming the party's Publicity Secretary and replaced him with Mr. Chinenye Nwulu? How could he have loved the re-branding!

Eze was a man the members of the party loved so much for his resilience to duty, but we didn't know that his ebullient spirit to work was aimed at disintegrating the party. He had been making some nefarious press statements that the leadership of the party never ratified, and he is still impersonating.

However, our advise to Eze is for him to turn a new leaf because no one becomes "King Kong" in a large party like the AC. His expulsion should teach other people a great lesson of good conduct anywhere they find themselves, not only in the political arena. Good exemplary lifestyle is what takes one to the next level. It still baffles the Party that a conduct which should elicit a resignation should have been the most honorable step taken but Eze still shamelessly parades himself as publicity secretary even with a suspension in place.

In a nutshell, Eze should know that the end of ones job is not the end of his life, except he has a contrary opinion. But even if he proves otherwise, the leadership of the RSAC still loves him but not to reverse a decision taken by the enlarged exco of the party.

Mr. Chinenye Nwulu is Acting Publicity Secretary, Rivers State Action Congress. Email: [email protected]
Development / Accra / Ghana / Africa / Modernghana.com