SAUTI SOL (AFRICA) NOMINATED WORLDWIDE INTERNATIONAL ACT MTV EMA 2014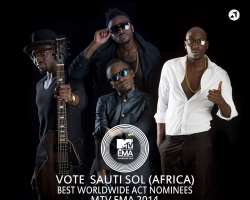 Winners Best African Act: African top band Sauti Sol (Kenya) now face the world! They have made it into the prestigious Worldwide Act award category, as one of 10 international Worldwide Act nominees.
Through Sauti Sol, Africa has a chance to win Worldwide Act for the very first time at MTV EMA, one of the biggest global music events of the year. Calling on all Africans to cast massive votes in the short time the online voting process has opened via http://base.mtvema.com/vote#cat=africa-india-middle-east Voting will close at 00:59 CAT on Wednesday 29 October.
PRESIDENTIAL ENDORSEMENT
Kenyan media and audiences have embraced Sauti Sol's challenge of becoming the best African and Worldwide act. Even Kenyan president Kenyatta and opposition leader Odinga have voted for Sauti Sol's nomination. At the same time, African media have presented Sauti Sol's nomination as a big step for the Kenyan and African music industry.
From underdogs, Kenyan afro-pop group Sauti Sol emerged winners following a tightly-fought race, trumping fellow African music giants: Davido (Nigeria) and Diamond (Tanzania) and Toofan (Togo). Starting out with winning MTV's Wildcard fan vote to be added into the 5th nominees of Best African Act MTV EMA 2014, they become the first Kenyan act ever to receive this award. Get into all social media platforms and show support for Sauti Sol (Africa) by participating on #AfricaTurnUP TT
#AFRICATURNUP
Voting for Sauti Sol (Africa) in the nominations for the Worldwide Act category is open now, every second, all day via http://base.mtvema.com/vote#cat=africa-india-middle-east and will close at 00:59 CAT on Wednesday 29 October. The winner of this category will be revealed during the 2014 MTV EMA in Glasgow.
LIPALA VIRAL
This month saw the release of the SURA YAKO (YOUR FACE) official music video, the fourth single off upcoming Sauti Sol third album: LIVE AND DIE IN AFRIKA. Last week the SURA YAKO remix was released, a collaboration with Nigerian superstar Iyanya.
The official release follows SURA YAKO's spinoff LIPALA DANCE, a highly successful dance competition via Instagram that sparked an online Lipala Dance movement in Africa and across the globe.
SURA YAKO's message applauds the beauty of an African woman. The video plays out a typical Kenyan pre-wedding ceremony (ruracio). Its production heavily borrows from Kenya's authentic coastal beats of Chakacha. The dance song flaunts Sauti Sol's diversity and wide array of musical inspiration while upholding their harmonious mix of voices. https://www.youtube.com/user/sautisol