Benue PDP Elders Forum selects Ortom, three others as preferred candidates for Benue PDP gov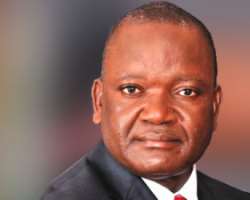 Minister of State, Industry, Trade and Investment, Samuel Ortom, a governorship aspirant in Benue State, and three others aspirants seeking the same office were selected after a pruning exercise conducted by PDP Elders Forum from Minda.
The outcome of the pruning exercise was announced in Makurdi by the Chairman of the forum and former House of Representatives member, Cletus Upaa, announced at a meeting with 16 governorship aspirants and 70 elders from the axis at the Makurdi residence of Senator Fred Orti that Ortom was selected from Guma, former Speaker, Benue state House of Assembly, Terhemen Tarzoor from Makurdi, Felix Atume, Gwer West and Alex Adum, Gwer.
According to him, the four have been advised to purchase governorship nomination forms and undergo the requisite screening by the party after which the forum would dialogue further to arrive at one aspirant to feature in the primary.
Former permanent secretary in the Benue State civil service and Secretary of the forum, Moses Anageende, explained in a telephone chat with our correspondent that the reasons were not given so that no one could use them against those not selected.
He assured however that he and the Chairman have been mandated to give explanations in camera to aspirants who demand to know why they were not selected.
Anageende said the exercise was advisory and intended to minimize cost and maximize votes for the candidate that would be selected eventually in order to ensure that he picked the party's ticket.
The former Secretary said the forum expected the aspirants to accept the exercise in good faith since it was carried out transparently in the overall interest of the people of the area by party members who unanimously accepted the verdict.
He thanked the people of the state for having arrived at the general consensus that the Minda political axis should produce the Governor of the state in the next dispensation.
Director General of the David Ker Governorship Campaign Organization, Richard Abu, stated that his principal who is the Chairman of Minda Forum of Governorship aspirants, had not accepted the exercise and would soon issue a statement on the issue.