N25 Million Is Not Enough For Me……Baba Suwe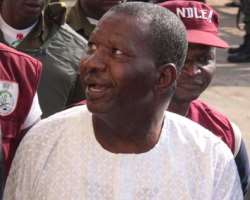 In Nigeria and other parts of the world, drug trafficking is a big problem which has a maximum jail sentence irrespective of the quantity of the drugs the person carries. Many Nigerians and some of its celebrities have been accused of drug trafficking directly or indirectly but have been able to escape courts wrath or were able to get fair judgment on the case and as such, were vindicated.
Recall that some months back, Nollywood actor, Baba Suwe was accused by the National Drug Law Enforcement Agency (NDLEA) of drug trafficking, thereby held in the agency's office for some time just to examine him to pick where he could possibly have hidden the drugs which was not found.
This caused the actor national embarrassment as nothing of such was found on him. Baba Suwe was charged to court by the Agency and he was able to get a good lawyer, late Bamidele Aturu, who handled his case well and he was able to win with the court asking the drug agency to pay compensation of N25m to the actor.
After some many months of waiting, the actor has called on the law enforcement agency to tender a public apology letter to him rather than money. He explained that the NDLEA has wronged him and it is meant to find a way to make him happy. "It is a slap on my face."
He added that he is not agitating for the money, because he cannot survive in life with such amount of money. Stressing that if the government can tender an apology to him and publish it in newspapers, he will have peace of mind and be happy.