2015: Obasanjo hosts Mark, Tinubu, Oni, Ladoja, others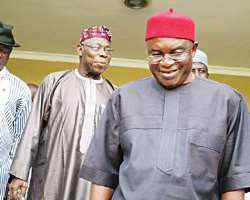 Former President Olusegun Obasanjo Friday played host to some prominent politicians across the political divide at his Hill Top, Abeokuta residence.
  Those who came calling include Senate President David Mark; All Progressives Congress (APC) national leader, Asiwaju Bola Ahmed Tinubu and former governors of Oyo and Ekiti states, Rasheed Ladoja and Segun Oni, respectively.
  Delta State Governor,  Emmanuel Uduaghan, Mrs. Josephine Anenih and Senator Saminu Turaki were part of the Senate President's entourage.
  The trio of Tinubu, Ladoja and Oni had earlier had a closed-door meeting with Obasanjo before Mark and his entourage arrived at 2p.m.
  All the visitors told journalists that they came for 'consultation' with the former President.
 Mark said: 'You know the Baba of the nation is President Obasanjo, so we have come to discuss with him and raise some basic issues that affect both the party and the nation at large.'
   On details of their discussion, the Senate President simply said: 'They are discussions that would move this nation forward. You know his passion for this nation is unquantifiable, so we have really had a good
discussion with him.'
  Commenting on crisis within the Ogun State chapter of the Peoples Democratic Party (PDP), Mark said: 'We are working as a party to make sure we put everybody who wants to be on board on board and congresses are coming up, so I think this is normal.'
  On his part, Tinubu said: 'We are here for consultation; we cannot know it all.'
  He regretted that Nigeria, at 54, can best be
described as 'an invalid child in an incubator' and urged Nigerians to rescue the country from those he referred to as 'mis-managers and clueless leaders.'
   Tinubu added: 'Nigerians have to take decision to rescue the country from mismanagement or replace the clueless leaders. We must take our country back from mis-managers.
  'Nigeria at 54, we are still an invalid baby in the incubator. We are blessed with abundant human capital, but we cannot develop it.'
  He queried: 'What is our pride? Our basic needs, such as pipe-borne water, are not available. We have army of unemployed graduates, stampeding, maiming and injuring themselves to find their daily needs.
  'At 54, we have not grown up; we are not being sincere with the people. That is why you find a lot of people seeking salvation all over in the churches.  
  'It is high time we took our country back from the mismanagement and corrupt system and replace the clueless leaders with purposeful and revolutionary leaders that will rehabilitate this country and fix everything back'. Additional report culled from The Guardian