Why Is Mr Tega, Fejiro Oliver Is Still Being Kept In Custody By "Chief Servant" Mu'azu Aliyu?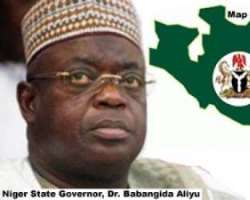 You still wonder why the DSS is still keeping Fejiro Oliver​​ in jail for, apart from the fact that they want to impress an anti people government, the so called "Chief Servant" of Niger State, Governor Mu'azu Babangida Aliyu whose pit of corrupting is deep as Kola Peninsula of Russia. Does Aliyu thinks he will be able to deceive all Nigerians and cover his corruption cesspool?
He is afraid that once Fejiro Oliver is released without crushing the documents indicting him of massive corruption, Nigerians will call for his resignation and worst still, kill his political career. We should all know that Nigeria belongs to all of us and we cannot allow it to rot in the hands of any criminally minded politician to use as his personal empire. What can Governor Mu'azu Aliyu show for his seven years of sojourn as a "Chief Servant" of Niger State? Can somebody answer this?
Politicians in Nigeria just detest criticism of their clad of burgeoning hell of corruption. That, this young man requested a government to respond to the staggering waives of corruption uncovered by a month of consistent and relentless investigation and SSG promised grant interview with 'backup document' but failed to honor their obligation and provide the said counterclaims smacks of fears of criminal indictment.
This too is an angle where Oliver's attorney should be looking at. The Nigerian population should demand the release of Fejiro Oliver and the publication of documents detailing the mountains of corruption in the administration of Governor Aliyu.
The days of naivity and silence in the face brutal, dictatorial regimes that plundered the economy of Nigeria and forced it to rot in the hot desert should be over by now.
If the government finds anything incriminating on Mr Oliver, why not take him to court where he will be judged and convicted according to the law? What is the SSS and Aliyu administration afraid of?
The saddest fact is that, some of the daft and visionless Nigerians are already buying into the propaganda and mold of lies spread by the very corrupt administration in Minna; and trying maw anti corruption campaigners who are calling for Fejiro Oliver's release.
FreeFejiroOliverNow!
Michael Joseph.
Director,
Public Affairs Department
Safe Action International