Christ Embassy Financier Arrested Over $96,000 Fraud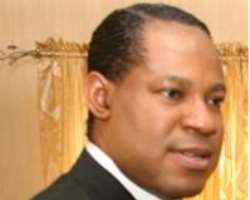 A former student of the Igbinedion University, Okada, Edo State, Okoro Osagie Victor, alias Jerry Finger has been arrested by the Economic and Financial Crimes Commission, EFCC for allegedly defrauding foreigners to the tune of $96, 607
through the internet.
The 23 -year old former Chemical Engineering student who dropped out of the university in 2004 due to what he called 'family issues', was picked up by operatives of the Commission in Benin city following a petition by a regional compliance officer with Money gram International, who suspected that the large number of foreign ladies, mostly Americans and Germans, who have been wiring money to the fraudster were victims of fraud. The suspicion was triggered by a communication with one of Victor's victims who told money gram that she met the fraudster over the internet and that she has been sending him money because he claims that he wanted to set up a business.
Investigations subsequently revealed that Victor is a serial marriage scammer. He has been fleecing his victims posing as Jerry Finger, a white British American expatriate working in Nigeria. Apart from sending photograph of a successful white male with the assumed Identity of a Jerry Finger to his victims and promising them marriage, he would also tell them that he was in Nigeria to execute a project and then demand for money from them, with a promise to refund them when he is paid for the project. Some fell for the gimmick and paid.
Before he was finally nabbed, a total of $96,607.95 had been remitted to him by several victims from the United States and Germany. He collected the money through Money gram desk in five different banks: United Bank for Africa Plc, Bank PHB, Spring Bank and Equitorial Trust Bank, using a fake driver's licence with the name of Jerry Finger. Upon arrest, he confessed to the crime, explaining that he usually deposit receipts from his heist in three accounts; a current, savings and domiciliary accounts with numbers 6028812305, 4018813554 and 9018800613 respectively with Zenith Bank.
According to him, he started scamming in 2007, 3 years after he dropped out of the university. Before then he had worked as bar man in two hotels in Benin City, Royal Marble Hotel and Ede Confectionaries. He said he was forced to embrace internet fraud due to the pressure of fending for his family. And even when he devoted most of his time to fraud, Osagie still held regular jobs as a camouflage for his criminal endeavours. He said he continued to work as Independent Field Advisor and Multilevel Marketer for ADIC Insurance in Benin.
But the unusual thing about suspect Victor is that unlike other fraudsters who live a life of luxury and spend their money on women, cars and drinks, he lives a moderate lifestyle. He neither drinks, smoke nor womanize. To crown it all, more than 80 percent of the proceeds of his heist were given to his church, Chris Oyakhilome's Christ Embassy as tithes and offerings. Recall that Christ Embassy is notorious for receiving stolen wealth.
Investigations reveal that so generous was Osagie, in his giving, that the church noticed and was concerned considering his age. But the fraudster assuaged their fears, explaining that his income came from legitimate sources.
But, why will a Youngman defraud people through the internet only to offload his loot as offering and tithes to a church? Victor does not see anything untoward about his action. According to him, money belongs to God and there is nothing wrong giving what he has made from his fraudulent endeavours to promote the work of God. He said he receives tremendous satisfaction knowing and seeing the people whose lives have been transformed through his giving. That for him was most edifying. He says he has no regret giving to promote the work of God. He added that all those who gave him money did so willingly. "They are all my friends. Up till now they are still my friends. If I call them now they will speak with me. I didn't defraud any one. I only asked for assistance and they were willing to help, "he declared. He said the only action he took which he is not proud of was assuming the fake identity of a Jerry Finger. However, he claims that some of his victims eventually got to know his real identify.
The suspect, who was picked on October 23 and has since been admitted to administrative bail, will soon be charged to court.Meanwhile, Chairman of the EFCC, Mrs. Farida Waziri, has charged Nigerian youths to take up the gauntlet in the fight against corruption in the country . She made the the call weekend when she received members of the National Youth Council of Nigeria in her office.
Waziri who was represented by Gabriel Aduda, Head, Strategy and Re-Orientation Unit, SARU, said the youths should key into the fight against corruption as the future belongs to them.
Her words: "We are going to be working together to fight this scourge (corruption) that has eaten deep into the fabrics of our nation and has even begun to tamper with our national life because we have people dying from road accident because roads have not been built and money meant for that has been stolen. We have people dying from diseases that should have been cured because those drugs never got to the hospitals or they got to the hospitals and later disappeared. So whether we like it or not, directly or indirectly, we have been affected by corruption".
According to her, the fight against corruption is not for EFCC alone but for all Nigerians, adding that the need to create awareness on this, gave birth to the Anti-Corruption Revolution Campaign, ANCOR, an enlightenment campaign programme that is aimed at giving Nigerians the opportunity to ownership of the fight against corruption.
In his remarks, acting president of the National Youth Council of Nigeria, Deolu Sotade George, showered encomiums on Waziri and the Commission especially over the recent conviction of Chief Bode George by a Lagos High Court .
He said with the successful prosecution and conviction of Chief Bode George, former chairman of the Nigerian Ports Authority, Waziri has shown that she was determined to root out corruption from Nigeria . "Your adherence to the Rule of Law in all your activities has been remarkable. The success recorded by your administration through fairness and justice which you have brought to bear in this Commission is quite commendable and encouraging to us as young people of this great nation". The youth leader added that "we are not surprised by the number of corrupt people that have been successfully and fairly prosecuted by this Commission under your able leadership, the most recent being the NPA 6 and mismanagement of depositors fund by some bank chief executives which cases are still ongoing. This further restored so much confidence of the people in the war against corruption and economic crimes at all levels. Indeed, you are a silent achiever worthy of emulation and deserving all necessary support and cooperation." He pledged his group's willingness to partner with EFCC through the ANCOR programme. "The launching of Anti-corruption Campaign (ANCOR) all over the country is obviously a step in the right direction and a testimony of your commitment towards eradication of corruption in our society. Hence, we call on all Nigerians and the International community to accord you and the Commission all the necessary support and encouragement, for the fight against corruption is a national call to action for us as young people if Nigeria must move forward and attain the Vision 20:20:20" he said.
The youth leader led a 21 member-team that included Abduljalal Daucla, Vice President, North East; Prince Musa Abutu, Vice president, North Central; Oscar David Kalu, Vice President, South East; Abiola Hamid, Public Relations Officer among others
|
Article source