Mikel Obi's Girlfriend Shows Off Her Love For Him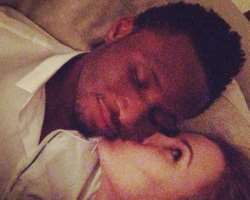 Nigerian footballer Mikel Obi was in the news some few days back, when he told Nigerian girls to leave his girlfriend Olga Allegra alone and stop attacking her. One of his fans told him that his girlfriend was badluck to him, because he doesn't play his matches well anymore.
His girlfriend, Olga Allegra is not bothered at all about all being said about her, instead she went onto her social media page to posts pictures of him and how much she misses him. According to one of her posts, she said love can be found anywhere.
"Miss you more than a fat kid misses cake...Midnight chats, about all and nothings..can't wait for you to be back, long chats, love you tomorrow, one more sleep, miss you, Bolognese" she said on another post.