Reveal the curves and cleavages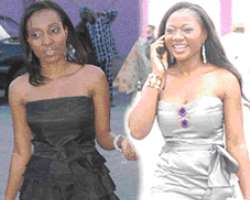 Strapless dresses are hot on the scene. They reveal a woman's natural endowments, leaving her to be desired. Draw eyes upward to your face and body with this simple, yet sassy fashion.
Today, more and more designers are forgoing the strap. A strapless dress is a great garment if you have nice arms and shoulders. Wearers must be free from blemishes, flabby arms, varicose vein and bleached skin.
Strapless dresses can look sexy and elegant on women of different sizes, but many women are reluctant to wear them for fear of exposing too much skin or not having the proper physique to carry it off.
For a gracious look, buy the right underwear. A long-line strapless bra will do the trick. This bra extends down to the waist and provides more structure to prevent slippage. If you want to steal the show, adorn your feet with patent leather heels or platforms.
Simple accessories hit it right with strapless dresses. You can play down on the neckpiece and adorn a long swaroski dropping earrings.
You could also reveal your style by wearing a full-body slip shape wear beneath your dress to lift your chest and also to hide all the folds that comes with age. Then, you will look slim all the way down to your thighs.
Ladies, go for a strapless dress that would accentuate your figure. Don't make the mistake of wearing a ruffled strapless dress when you are on the big side, but make it cute by wearing one suitable for your body shape. Acquire one now and add finesse to your looks.
Story by nollywoodgists.com