FG to site Free Trade Zone in Enugu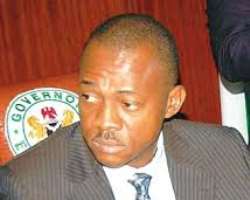 FG to site Free Trade Zone in Enugu
The Federal Government plans to site a free trade zone (FTZ) in Enugu State, which is aimed at fully maximising the benefits of the international status of the Akanu Ibiam Airport, Enugu.
Besides, the government is making the airport a transshipment air cargo port to service the West African sub-region as well as other South East states in the country.
Enugu State Governor, Mr. Sullivan Chime, said Thursday that President Goodluck Jonathan would soon grant his official approval for the project, which will be in collaboration with the state government.
The governor spoke when e Executive Council of the National Association of Government Approved Freight Forwarders (NAGAFF) paid him a courtesy visit in Enugu.
According to the governor, the state is working towards harnessing the full potentials inherent in the new status of the Enugu airport.
He promised to partner with NAGAFF on sundry ideas put forward to his government so as to generate employment opportunities and grow the economy of the state.
Already, Jonathan had directed the Nigerian Export Processing Zone Authority (NEPZA) to move in and ensure the actualisation of the project.
The executive members of NAGAFF led by their National President, Chief Eugene Nweke, had earlier in his opening remarks sought the collaboration of the state government on establishing the transshipment hub; Inland Container Depot (ICD); e-commerce transaction in the air cargo industry, among others.
"We came to intimate you and the government of Enugu State of our desire to partner with your administration in the area of proper management, administration and operation of an  International Airport, to maximize the benefits," he said.
Nweke called on the state's government to encourage and sponsor some youths in the state to take up freight forwarding profession.
The NAGAFF chief pointed out that that degree programmes relating to logistics and supply chain management are now run by some national and private universities.
Nweke highlighted the benefits of the proposed FTZ and its allied transshipment hub in Enugu as boosting commercial activities by engendering the establishment of small and medium scale industries; improving the revenue base of the state; creating job opportunities, thereby reducing crime rate.
To further boost the revenue base of the state, NAGAFF urged the state government to introduce airport landing fee or cargo dues at the international airport.
"From our vantage position, we say authoritatively that the South-East can boast of numerous big players in the logistics chain industry. They are more than willing to diversify their cargo traffic through other airports to Enugu because the Lagos Airport especially and the routes around it, are congested. So efforts should be geared towards making the Akanu Ibiam International Airport attractive to importers and freight forwarders to divert their cargoes to the airport," he said.